AXON SOFTWARE IMPROVED OUR CUSTOMER RELATIONSHIPS
"I would say that the biggest change that Axon has made is the fact that we can scan documents and then attach them to loads… Now, I can literally pull the POD and have it to the customer before they hang up the phone."
Dan Mathis
Operations Manager
AC Trucking Inc.
Manteca, CA 95336, USA
FREE BOOK – "HOW WE TRIPLED OUR FLEET SIZE WITHOUT ADDING ANY OFFICE STAFF"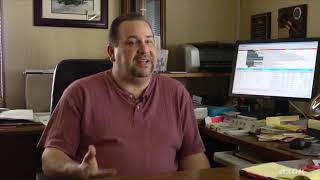 AC Trucking Inc. operates out of Manteca, California. They have been in business for over 37 years, specializing in providing truckload freight to the seven western states. We spoke with Dan Mathis about their Axon Software experience.
My name is Dan Mathis. I'm the Operations Manager for AC Trucking Inc.
Tell us about the company.
We haul general commodities and freight using both van and flat bed, and we also have a tanker operation. We run 26 company units, over 150 vans, 26 curtain vans, and 1 tanker in our operation. We have about 9 sub-haulers who are working for us
When did you start using Axon Software?
We started using Axon in September of 2006. We were using computers before, but it was just a basic Access database to keep customers and information in. We found that we needed something that would get more results. We couldn't pull any information from the system other than just regular loads. The billing was a completely separate thing. We were actually transmitting billing into a separate program and then doing billing on QuickBooks® and then going back to the other program to print the invoices. So, it had a number of different steps to it.
Now everything is integrated.
Has Axon Software changed the way you do your job?
Everything is in there – all the information for all the departments. We can search by location, by region, by number, by carrier, by billing….
It's very user-friendly and easy to get to. We can pull reports for future loads; we can pull revenue reports … different types of things that we never had the capability to do before. It helps us streamline our business.
How do your staff feel about the software?
It takes probably a month for someone to get comfortable with using the software. It's not that it's difficult; there are just a lot of different levels. But once they get on board with it – searching for location, searching for vendors, searching for suppliers – everything becomes very easy for them.
We don't have a difficult time training people to use the software. It's pretty user-friendly and the Help files help us to get through something that may not be a typical routine thing.
I think that the drivers appreciate what Axon does as far as payroll. They get to see a very concise statement that we didn't have in the past. It shows them exactly what they need to know. If there is ever a discrepancy, the driver's got the information to be educated enough to come in and say, 'I need to know what's going on here,' instead of just going, 'I think you messed up.'
So, every pay period they get a nice statement and they know exactly where they're at. If they have questions, it makes it very easy for them to come in and ask.
How has Axon Software helped you with your customer relationships?
Quoting on Axon is very easy. We can plug in a couple of locations or zip codes and we're able to pull up routing from PC*MILER and pull up the rating and information like that. I can actually print a copy of it out and send it as a quote if I want to. For those certain customers that really want to see something, I can get them hard, tangible evidence in just a matter of moments.
I would say that the biggest change that Axon has made is the fact that we can scan documents and then attach them to loads.
The one thing that happens almost every year in this business is you'll get a list of loads or proof-of-deliveries that a customer wants to see. In the past, you'd go and find a file cabinet, find the paperwork, go through the files. There would always be files that were misfiled or filed with different orders. Our Safety Director's side job was pulling PODs. He would work for a week to get a list of PODs.
Now, I can literally pull the POD and have it to the customer before they hang up the phone. It has saved a lot of digging around through things. I know that the customers appreciate it because their information is in their hands when they want it and there is no delay.
Would you recommend Axon Software to other companies?
Absolutely! I think it's a great program. Once you get used to it, it brings in all the aspects of trucking. Axon has helped us bring a lot of different areas together and helped us understand them a lot easier – from dispatch, to billing, to trends.