WE COULD EASILY DOUBLE OUR FLEET, OR BEYOND
"With Axon Software we could easily double our fleet and not have to add anymore staff. We could probably go beyond double our fleet, or we could double the volumes we're doing. We haven't had to increase any staff in the office, because we're able to process the paperwork efficiently with Axon Software."
Jukka Blom
Owner
Blom Transport
Hamilton, ON L8H 7S7, Canada
FREE BOOK – "HOW WE TRIPLED OUR FLEET SIZE WITHOUT ADDING ANY OFFICE STAFF"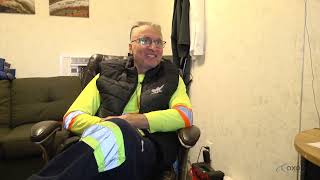 Blom Transport of Hamilton, Ontario, has been an Axon Software client for about 3 years. The company is a great example of how good technology can be used to save time and make life a little bit easier.
We spoke with owner Jukka Blom to learn more about his claim that "What would have taken two of us all week … we are doing it in two days."
I'm Jukka Blom, the owner of Blom Transport from of Hamilton, Ontario
I'm Jukka, the owner of Blom Transport from Hamilton, Ontario. We have approximately 10 units that run consistently around the clock servicing the metal recycling industry and mill services for the metal-making industry.
I used to be an operations manager at a scrap yard, and I was always helping the truck drivers and other people coming into the yard with their equipment. We had one trucking company that was in a little bit of trouble and asked for some help.
I bought their equipment and got into the scrap hauling business at the same time as running a scrap yard. I did the two simultaneously for almost four years. Then I decided to leave the scrap yard to do trucking full-time when things got out of control and we got really big.
That's where Axon came in. We just couldn't keep up with the paperwork. It was just awful. We were doing everything manually with spreadsheets. Initially I thought, "I can't afford the software." Then I looked at it and I said, "We can't afford not to have it with the amount of time we're spending on paperwork." We haven't looked back since.
How has your experience been with Axon Software?
We've been using Axon for approximately three years. The software has been one of the best investments we've made. It's one of the best things we've done for tracking loads and paying drivers. And clarification for drivers. A lot of time times they have questions, "How did I get paid?" or "What was this?" We have the order number. We just look it up. We show them or we reprint statements. Whatever need be.
One of the nice things is that accounting is integrated into the software, so you only do stuff once. You don't have to import anything into another accounting software or whatever.
The equipment is all tracked in the software as well. So we can keep track of the equipment, the drivers, owner operators, insurance, accounting, bank accounts. It has been really good.
Has Axon changed anything about how you do business?
Axon helped reduce the amount of time that we spend in the office, which allows us to move forward and do other things. Spend more time on the business itself, rather than sitting at a desk processing paperwork.
It sped up the driver settlement process maybe four to fivefold. Everything is done in one transaction. When we enter the order, it's complete. There is no photocopying or moving things from one spreadsheet to another.
One nice thing with Axon Software is that we can have different owner operators on different pay scales. That's all set up in the software, so you don't have to worry about making a mistake or putting the wrong number in.
With Axon, everything is integrated, so everything becomes simple. If it's an owner operator, they get paid to their company. If it's an employee, that gets paid to the employee. It's really easy to track because it's all set up in the system. Employees get paid at their hourly rate. Owner operators get paid on the percentage of what they do.
The other thing that really helps is the rate tables. We can enter the rate tables in where it automatically sees one location to another location, and it just copies the rates in. We don't have to look it up or wonder what the rate is.
Without Axon would you need more staff?
Yes, without Axon, we could definitely not do it with the level of staff that we have. The paperwork would have been a full-time job for one or two people all week.
Where now, we can literally do all our paperwork and processing in one day. The pay is done the next day. What would have taken the two of us all week to do, we are doing it in two days.
With Axon, we could easily double our fleet and not have to add any more staff. Since we've entered into double shifting and running 24/7, we haven't had to increase staff in the office because we're able to process the paperwork efficiently with Axon Software.
Time is key for everybody, right? There are better things to do with our time than sit at a desk processing paperwork.
How quickly do you think Axon paid for itself?
Oh, I would say it pays for itself right away, like in the first month. If we had to pay people to be here – the software is cheaper than paying one employee for a week.
Has Axon helped you maintain or improve your customer relations?
Axon has actually really helped us. We have set up the software so we can check for duplicate tickets and we use that feature to avoid invoicing a customer twice for the same load. It also helps us find customer paperwork that has already been processed.
We can pull that paperwork and email copies of it back to them. That can be done after a week, a month, a year. We're always able to do that and accommodate requests from the customers.
Can you compare Axon with other software products that you've worked with?
I think, with Axon Software, one of the biggest assets is the customer support.
We just had this recently. We had to pay commission to a broker on a pay scale, and we didn't know how to get the commission out of there so that we weren't paying the drivers on the commission portion.
We just sent a little email to Axon saying we need help with this and miraculously, within 10 or 15 minutes, we get a phone call saying, "How can we help?"
That's how it goes in almost every scenario. They've been able to help us come up with a solution. When we don't know how to do something, they help us through.
The people at Axon actually know the trucking industry. They know the tax codes and all these things as it pertains to the trucking industry. It's been really, really good in that aspect.
Is the software easy to use?
The software is really easy. I trained my daughter here in a week and showed her how to do a few orders. She is the one who does the majority of the processing. Within a week, she was doing it on her own, so we've had no difficulty in learning how to use the software.
The biggest challenge is learning what the software can do for you, because it can do so much. It's hard to believe that it can do that much in one package.
Every time we finish our invoicing at the end of the week, I look at our receivables and I look at our profit and loss statements. It's all right there.
If somebody in the industry asked about your experience with Axon, what would you say?
I do have one example. I helped a fellow get started in the business and he was using other software. He would randomly call me almost in tears, saying that he can't access his software, or there's a glitch, and all kinds of things. I would say to him, "Why are you wasting your time?"
I said, "You know, Axon Software is proven. There's product support. I've never gone down. I can even go to my cabin up north and I have satellite internet up there. The internet is slow, but I can still use the software. I can see what's going on and talk to the drivers.
Recommending Axon to another company is a no-brainer. It's something I feel confident doing because I know that he's never going to come back and say it wasn't what he expected. It's always better than they were expecting.