20 YEARS OF PERSONAL SUPPORT
"I've been talking to Leeann for 20 years. That says something about support. For me, personally, the support from Axon is the reason we've been using it for 20 years. I can't imagine it being any better than what it is. The customer service is second to none."
Terry Evans
VP of Finance & Administration
Caron Transportation Systems
Sherwood Park, AB T8H 1N1, Canada
FREE BOOK – "HOW WE TRIPLED OUR FLEET SIZE WITHOUT ADDING ANY OFFICE STAFF"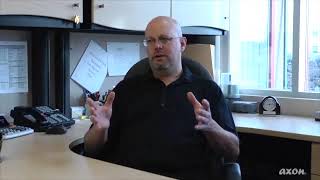 Caron Transportation Systems from Edmonton, Alberta, has been an Axon Software client and Inner Circle member for over 25 years. Terry Evans spoke to us recently about their Axon Software experience.
I'm Terry Evans, the VP of Finance and Administration at Caron Transportation Systems.
Tell us about the company.
We have terminals in Edmonton, Sherwood Park, Calgary, Grande Prairie, and Saskatoon. We haul primarily in western Canada, but we do go right across Canada and into the States for some loads.
We're a bulk commodity hauler. We haul chemicals, lube oils, and dry bulk primarily. We also have a division called Interload Services Ltd. which is an aggregate hauler, and that's primarily local business here in Edmonton.
We're currently running about 260 company-owned units and we run up to another 100 leased operators during the year in our Interload division for a total of about 350-360 tractors at any given time during the summer.
How long have you been using Axon Software?
I started here 20 years ago, and Axon was here when I started. We had the GL, Accounts Receivable, Accounts Payable, and we just kind of built it over time. We added dispatch and a work orders system, and three or four years ago we switched over to the newest Axon system with the full-blown dispatch and accounting software program that we're using today.
How do you find the business partner management in Axon Software?
Axon has a very good business partners system. Before, we didn't have the ability to centralize all of our customer contacts and phone numbers. Everyone had their own little booklet or card folder with their contacts. But what happens with Axon is it centralizes it all.
It's a common database; the salesmen can use it; the accounts receivable people can use it; and the dispatchers can use it. It just puts all the names in one central location and allows access from all of our terminals right across western Canada.
Has Axon Software helped you with reporting?
Reporting is probably one of the best things in Axon. I was asking my accounting manager before you came in today some of the things that she liked about it and that was probably number one – the Reporter reports and the ability to generate your own reporting.
There's already great reports in Axon that come with the program. But the fact that we can generate, build, and create our own reports – we can design them for what we want them to do – that's a huge benefit for us.
And that goes back to the question about how do you keep your customers happy? Well, we do a lot of reporting for customers and, without Axon, it would be virtually impossible to do.
How many fuel downloads are you using?
We have Shell and Petro Canada. Those are our two primary suppliers. We're adding on Federated Co-op here right away. We also have Imperial Oil. Basically, any fuel supplier that we have is a download.
There's nothing entered manually at all. It's downloaded off the internet. It works real well. We'd be lost without it. With 250 tractors fueling up every second day, that's a lot of transactions to try and do manually.
How do you find the support?
I've been talking to Leeann for 20 years. That says something about support. For me, personally, the support from Axon is the reason we've been using it for 20 years. I can't imagine it being any better than what it is. The customer service is second to none.
I would say that, if you're used to dealing with another company and struggling to get things done or have problems with the customer service department, you're not going to have those problems with Axon.
They're very good at responding to your needs, listening to what you have to say, and trying to understand your business.
That was another huge thing that actually quite surprised me when we went over to the new Axon program – just how well the programmers seemed to understand the trucking business. That was quite impressive.
Has Axon Software helped you grow the business?
It's been my experience in the past with other software programs, there's limitations. There are constrictions that slow you down in your day-to-day operations.
Axon is very easy to use and expandable. You can just keep adding more people to it, or more customers to it. It doesn't do anything to slow you down.
We actually have grown a fair amount without adding many employees. It's just been in the last 12 months or so where we have added some employees because it catches up with you.
We grew – we've been growing 15% a year – year after year – and I haven't added an employee in 10 years in the accounting department.
The number of people that we've had to add because of it has been minimized due to the fact that we had a good program in place that takes a lot of man hours away from manual entry and whatnot, and automates it, and just makes it easier to grow.