IT'S LIKE MOVING UP FROM A GO-CART TO A NASCAR
"Axon will give you everything QuickBooks gives you times 100. There's nothing to be afraid about because it'll only expand your efficiencies, your tracing, your tracking. Again, there's just no comparison."
Roger Hamel
Owner & General Manager
CDI International Inc.
High River, AB T1V 1P3, Canada
FREE BOOK – "HOW WE TRIPLED OUR FLEET SIZE WITHOUT ADDING ANY OFFICE STAFF"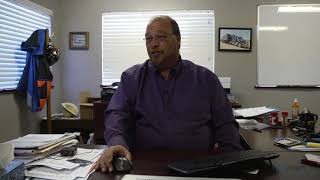 CDI International Inc. of High River, Alberta, operates four trucking divisions. The long haul trucking division pulls drop deck and double drop deck, along with multi-axle equipment, across North America. The oil-field division, with offices in High River and Grande Prairie, AB, has winch trucks, scissor necks, and picker trucks. The Northern Lights division pulls hydraulic sliding-axle trailers, within Alberta, for the construction equipment rental industry and for the core drilling, oil field. They also have a brokerage division. Owner and General Manager, Roger Hamel, spoke to us about their Axon Software experience.
I'm Roger Hamel, Owner & General Manager of CDI International Inc. out of High River, AB.
What led you to start looking for new software for your company?
What led to it initially was growth. We got to the point where the way we were operating on a canned computer system was just becoming too cumbersome. We wanted to improve our efficiency. We wanted one software system that would take us through everything, from quoting stage unloads to dispatch to billing to tax returns. Our growth got to the point where we needed to seriously look at what we could do from a software standpoint to continue to provide our customers with the efficiencies that they had grown to expect and still increase the size of our fleet. You lose so much as you increase your size. We needed something to tie it all together as we grew. Prior to Axon, we were using QuickBooks. That facilitated the invoicing on a very basic level. Everything else was manual. It did absolutely nothing to enhance our business.
You said you lose so much as you increase your size. Can you explain that?
As you grow, the people you add to your operations—dispatchers, operations managers, whoever—only have so many hours in a day. If they're manually recording everything they do in a day and manually dispatching the trucks over the telephone, they just run out of time. Communication between one person and another within an office setting loses its efficiency quickly because there's so much happening. Your volume increases so much; you just cannot keep track properly. With the use of a good software program, that information's put into the computer for everyone in the company to see and to follow up on. A good computer system has checks and balances in it in terms of order entry and tracing. All of our trucks are on Cancom satellite system. That's integrated seamlessly with our Axon system.
When did you decide that Axon Software represented the right direction for your company?
The final three software systems were presented to me, and what really tipped me to Axon was what I believe to be Axon's commitment to ongoing service and immediate technical support. I wanted a system that not only met our needs but went beyond our immediate needs and had the ability to expand with us. And that's what Axon stressed. That was one of their biggest attributes that enabled us to make the decision to go to Axon. And the support has been phenomenal. The support and response time is incredible.
How did your staff deal with the change to Axon Software?
There was absolute, 100% acceptance. Because of what Axon offered us over our antiquated system, there was just no question. Axon did a tremendous job transferring our databases into our new software. I don't believe there was any negativity from our staff. There was a bit of apprehension at first, because we were going to a real-time system as opposed to the way we were doing it, where everything was put into the computer after the fact. But as far as seizing Axon, everybody did.
Has Axon Software changed the way you handle fuel taxes?
It has streamlined it incredibly. We're integrated between our fuel delivery company, Axon, Cancom, and PC*MILER. We were reluctant to make those changes, because of internal operating procedures. But now that we've made that switch, we're very happy we did.
How would you compare QuickBooks to Axon Software's accounting?
It's like the difference between a go-cart and a Nascar car. They cannot be compared in any way, shape, or form. It's true. There's just no way to compare them because one works and the other one—leads you. I really find Axon is always a step ahead of us in what it will do for us. And I would speculate that's what most people find. I don't think we're unique. Every time I want a report, whether I want to isolate equipment, customer revenues, whatever information I want to isolate; Axon has the ability to do it. I have not run into a situation where I wanted to analyze a part of my business and either the Axon system as it stands or the Axon people could not generate it for me. It just hasn't happened.
Has your ability to analyze your business improved?
I can get my month-end numbers within seven days. And I think I could probably even get them quicker if we were better at input. So the biggest change that it's made, in terms of reporting to me, is darn near immediate responses. Prior to Axon, I would have to wait 45 days to get my results. And I was never comfortable with them. I am far more confident in the information Axon provides.
What's your experience with the invoicing process?
Axon invoicing is incredibly trouble free. Our time between delivery and invoicing decreased. Once we have a proof of delivery, the operator's paid, and it's invoiced immediately. Once my dispatch is finished with what they need to do to pay the driver and so on, invoicing is always done that day. Very seldom is it ever carried over.
One thing that's really helpful is that, on a weekly basis, my billing people will print off a report on orders we have out there that have not been billed yet. I can analyze that report and find out from all my people why they have not been billed. It protects you from that missing piece of paper that will leave a bill on somebody's desk for a week or two. One of the great things that I find with Axon is it gives you the ability to measure things incredibly well. As soon as you can measure, you can effect change. It's huge, especially now where we have to watch our profitability so closely. Profitability in this industry is incredibly difficult to define. Not the least of which is your outstanding days on receivables. If we can tighten up our receivables by two or three days—that's a significant amount of money. Or if we can reduce our time from delivery to billing; it makes a huge difference."
What would you say to another owner who is still undecided about investing in Axon Software?
They can't underestimate the importance of personal customer service. Axon is second to none with that. You're never alone with Axon. I'm not an Axon employee—I'm a customer—but I mean that. Axon has truly allowed us to believe that they're always on our side trying to make our business better for us. I don't know if Axon realizes that I'm a huge advocate, but I go back a lot of years in this industry, and I've gotten many calls from people that I know in the industry asking me about Axon, and I basically told them an abridged version of what I've been talking to you about. If somebody was looking at Axon and spoke to me, I'd say 'Just stop analyzing and get at it, because it's just going to make your business a lot easier.' Axon has helped my business make more money. It allowed us to handle more volume, efficiently. I could not imagine being without the system. We've become so used to it that I just wouldn't want to imagine operating without it. It's an integral part of our business, period.
What would you say to a manager who is reluctant to move from QuickBooks?
Axon will give you everything QuickBooks gives you times 100. There's nothing to be afraid about because it'll only expand your efficiencies, your tracing, your tracking. Again, there's just no comparison. It's like moving from the Dark Ages to the Space Age. The only thing that I could see that would hold somebody back is software intimidation, but Axon takes that problem away by support. The customer service and support is incredible, and I think the only reason why a person would hold back would be software intimidation which is so common, especially with people in my generation. But as you can tell, I'm a huge advocate of the system.