IT'S ALL-IN-ONE. IT'S WONDERFUL.
"Absolutely amazing going from just a basic accounting program to a full-on trucking software. It's all-in-one. It's wonderful... My invoicing has gone from days to hours."
Michelle Worrall
Financial Controller / Senior Planner
Cutting Edge Consulting
Calgary, AB T2G 4P3, Canada
FREE BOOK – "HOW WE TRIPLED OUR FLEET SIZE WITHOUT ADDING ANY OFFICE STAFF"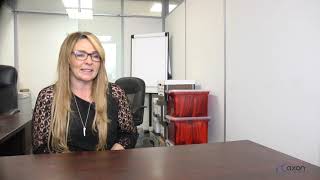 Cutting Edge Consulting Ltd of Calgary, Alberta, made the switch to Axon Software early in 2021 and immediately leveraged it to continue growing with a very lean staff.
We spoke with Controller Michelle Worrall to learn how Axon helps them be more efficient with their time and in multiple areas of the business.
I'm Michelle Worrall, Financial Controller and Senior Planner with Cutting Edge Consulting.
I'm Michelle. I work for Cutting Edge Consulting Ltd from Calgary, Alberta, as the financial controller and senior planner. We haul garbage, alcohol, compost, and lots of recyclables.
We started with Axon on April 1 of 2021. It's been absolutely amazing, going from a basic accounting program to full-on trucking software. It's all in one. It's wonderful.
What types of problems has Axon helped with?
We now know everything that is going on in the company on a daily basis. Trucks, trailers, employees, we know where everything is.
It has simplified things by a hundred percent, absolutely. Our staff has stayed the exact same. Our company is growing, but we haven't had to hire anybody. The staff we have is well-equipped to handle what Axon can offer in regard to dispatching and every aspect.
If you added 10 more trucks…?
Easy. Staffing wouldn't matter. It would stay the same. Axon has made the dispatch, the receivables, every aspect a lot easier to deal with. The sky is the limit. We are bringing in a dispatcher eventually here, but right now, we could probably add 20-25 trucks and it wouldn't hurt the staffing in the office.
Do the drivers like their statements?
The owner operators love the statements that come out of Axon. The fuel that comes off, everything, all in one. Our contract drivers, same thing. Beyond detailed.
Has Axon helped you get your invoices out quicker?
Yeah, very quick. Extremely quick compared to when I did it by hand. With this, everything is all in one. One order completes everything.
My invoicing has gone from days to hours. Receivables are technically 15 to 30 now.
Has it been easier to deal with customer requests?
Yeah, it has been. Charlie deals with most of that in regard to the sales and customer relations. But as far as I know, the lines of communication are a lot easier. The convenience of anything the customer requires: at a moment's notice, I can give to them.
If they have a question, I can look it up with a second's notice. Just like that. I put it all back within the order, attached to the invoice.
Charlie (Dispatch/Sales) commented: We can email them back all the documents and they love that, right? Customers like that. It gives the customer more confidence in the service that you're delivering.
How does the Axon Link App work for you?
Some of the older guys took a little bit of time, but the employees love it. It's a lot easier. Paperwork is done and uploaded immediately, so we have access to that if needed. Then they hand it in once a week like normal.
Has Axon saved time for you and the company overall?
Axon has saved me personally, in my position in the financial aspect, a million times from not doing spreadsheets in Excel. Everything is at my fingertips. I was creating spreadsheets for owner operators to do pay, and I was creating backups relating to weights on tickets. Now, I can pull up a report for every single one of those things. The data is absolutely accurate. There are no discrepancies at all.
My experience with Axon has been amazing. It has changed my life with my job, making everything easier, more simplified, and streamlined for our company. Axon has probably saved a good third of my day.
My time doing payroll has been cut down as well. The reports, the driver settlements, their hours, calculating holidays, everything like that which I used to do on a manual basis, is now all in one.
How did you find the training and support from Axon?
It is really good. Really informative. The 1-800 number is amazing to get ahold of people, especially with the remote access that they have. The Axon team is amazing.
How easy or difficult do you find the software to use?
It's very easy to use. It took me no time at all to learn the program, and I've actually taught two other people in the office how to use it. It's very simple. It seemed a little overwhelming at first, but it's amazing.
If somebody in the industry asked about the software, what would you say?
I would recommend it just like that. It is one hundred percent accurate. Especially for trucking, it's simplified. It has everything all in one.