CUT OUR WORKLOAD BY OVER HALF
"Axon has been a real asset for us, as far as time management. My husband has been able to semi-retire... I have been able to reduce my hours substantially. I was working 40+ hours and a little on the weekends... Now, I could virtually cut back to 2 and a half days per week."
Barbara Floyd
VP
Dennis Floyd Trucking Co Inc.
Santa Rosa, CA 95401, United States
FREE BOOK – "HOW WE TRIPLED OUR FLEET SIZE WITHOUT ADDING ANY OFFICE STAFF"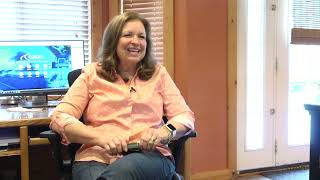 I'm Barbara Floyd, Owner and VP of Dennis Floyd Trucking in Santa Rosa, CA.
Hi, I'm Barbara Floyd, vice-president of Dennis Floyd Trucking Company, here in Santa Rosa, California. We also have a new division in Nevada. We're spreading our wings, partly because Axon makes it easier to do so.
My husband started this company. His great grandfather was one of the first truckers to get a state license in the state of Washington many years ago. Then his father got into trucking in the '40s after he came back from WWII. So Dennis has followed in his father's footsteps.
As a teenager he worked for a local produce company delivering to schools and doing bobtail drives early morning. He walked away from it for some other career opportunities and then came back to it in 1979.
It's been a family operation. His mom made a lot of phone calls. We both did book work at night after our regular jobs and the children were in bed. It just progressed over the years. Now we run up to 60 trucks. We've hired family and friends. Our grandson works here. Our son is up in the Nevada office now, working remotely because of Axon. That has been pretty exciting.
Can you talk about your company's transition to Axon Software?
We've had a couple of programs in the past. One got very outdated. Being older, I was really reluctant to look for something new. I got some good resources and referrals, and Axon came highly recommended. Somebody closer to my age that was in the same predicament found that it was very beneficial to their company. They're a big company – many states wide. They referred me to Axon. I hemmed and hawed a lot, and it took me a while, but there are no regrets.
We went live with Axon on January 1, 2020. I think everybody can say there are no regrets. It's just been really awesome. I used to work a lot of hours just to keep everything organized and filed. A lot of it had to do with the old software program. We had no idea that it was taking so much time. We were more hands on, looking things up, going past problems, and stuff like that. We're so streamlined now.
We don't get calls for missing this or missing that. It's just great. I get reminders for accounting, that's basically my main job. Steven and Brandon dispatch. TJ does the billing, invoicing, and accounts receivable.
Has Axon changed the way you do invoicing?
Yes. Invoicing is really awesome. We are now emailing 90% of them. Axon makes all this possible, because we have all the original documents stored in the computer under attachments. So now I don't have to spend time going back to the filing system and pulling it out for customers that want them. I can just look it up on the computer. I can find it with a PO number, an order number, a customer's PO number, the dates, the customer's name, or the destination of delivery.
It used to take us several days to get invoices out the door, plus mailing time. We have customers all over the United States, so things going to the east coast could take up to a week. Now, doing it through Axon, we have those invoices posted and emailed the same day we close them. Then they're filed and it's done.
Cash flow has picked up. It helps. It really does. We get net 15 to 30 days, and they're getting the documents they require much faster, so that has been a big asset.
Do your independent owner operators like their statements from Axon?
They're really pleased with them. Our old program was not as detailed. With Axon, you can have a flat rate or a percentage. They like seeing that number on the equipment statement showing what they made for the year. That's an asset.
Some of them are LLCs, which is part of the requirements in California for independents. Their year-end isn't always at the end of the year. It works out really well for them and saves me a lot of time creating 1099s.
Has Axon helped reduce workload?
My husband has semi-retired since we've had Axon. That was great and he was really ready for that.
We had somebody part-time coming in one day a week to do extra filing and stuff like that. When COVID hit, he opted to stay out and decided that it wasn't necessary to come back. We've found that we didn't need that extra help now.
I think more importantly, with all the fires and rebuilding here in Sonoma County, we've been really busy. With roofing and all that, it's a lot of material, and that's what we do. We're flatbed freight haulers and we're bringing in construction material from tile to flooring to decking, and all forest products.
We had a really busy winter during the pandemic. Axon allowed us to communicate and work separately through that period of time. It gave us that freedom.
Do you think the software paid for itself?
Yes. The hours that it's given back to me have been worth a fortune. It's given me the freedom to get to the point where I'm working part-time. I'm doing a little bit of payables and overseeing a few management things, permits and issues like that.
What we're really excited about is being able to work remotely. Remote working with Axon works really well, and that's why we were able to pursue expanding into Nevada.
Has anything changed about your relationship with clients?
I would say our clients are really pleased. They like the invoice cover sheet because it's so clear and precise. They like the statements I send out because there is more information there. They like that. We can add more details or we can customize it to make it simpler. If a customer requests something, you can do it
Do you find Axon easy to use and move around in?
I'm a little old school. I was concerned at first. Now it's really easy. It makes so much sense to me now.
We have the two dispatchers and they really like the program. They're really pleased. We have two screens up at times, one for the load board and the other for the emails or whatever you have to do. It works really well for us.
Setting up new trucks is really convenient. I set up their insurance and everything right there in Axon under attachments. The dispatchers can look instantly and see that we have all the setup information we need to assign a load. We make sure that they're compliant with all the laws and we have all their business information.
That has really streamlined things instead of having to go through a full insurance folder to double check or look for a little memo under notes and stuff. Having all those documents attached there is really convenient and quick.
What do you say when other people in the industry ask about Axon?
Oh, I highly recommend it. There are a few people I would love to see switch that are still using the old program that we had. There were a number of us in this area that were using it and we were having so many issues with it.
Axon has been a real asset for time management. My husband has been able to semi-retire. I have been able to reduce my hours substantially. I was working 40+ hours and a little bit on weekends, taking care of all the extra duties. Now, I could cut back to two and a half days per week if I really wanted to.
I'm getting closer to retirement, so we are trying to prepare everybody in the office. The exciting part is, we don't feel like we have to rush and hire somebody new to take over. We won't have to replace me.