GREW FROM 8 TO 100 TRUCKS IN A YEAR!
"We love it. We use it for everything – not only on the accounting side, but for dispatch. Then also here on the safety side and recruiting side as well. It's kind of like our holy grail, when it comes to our company."
Michelle Elias
Compliance Coordinator
Starr Oilfield Services
Tulsa, OK 74116, USA
FREE BOOK – "HOW WE TRIPLED OUR FLEET SIZE WITHOUT ADDING ANY OFFICE STAFF"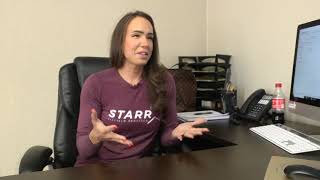 From 8 to 100 trucks in about a year, Starr Oilfield Services hit the ground running and never quit. We paid a visit to Tulsa and had a chat with Michelle. She explains how they've been using Axon Software to stay organized and efficient since the beginning.
My name is Michelle, and I am the DOT compliance coordinator here at E Bar J Trucking. We are located in Tulsa, Oklahoma, and we have been established for about a year now. We haul frac sand basically all throughout the state of Oklahoma. We started using Axon toward the beginning of our company, so we've been using it for almost a full year now.
What has your experience been like with Axon Software?
We love it. We use it for everything – not only on the accounting side, but for dispatch. Then also here on the safety side and recruiting side as well. It's kind of like our holy grail, when it comes to our company.
Can you talk about some of the problems that Axon Software has helped you solve?
I would say it definitely helps whenever we are reissuing trucks, trailer units, or whenever we are orientating drivers. Drivers tend to come and go a lot, so it really helps us to stay organized as far as where our fleet is at, how many trailers are running… Basically just staying organized.
We have to make sure that for all of our drivers, their medical cards are current, same with respirator fit cards, expiration dates on pretty much everything. The system has spots for all of that information. It helps when we have a hundred drivers and need to make sure they're current on registration, all their medical, we can just login to Axon and check that.
Do the drivers like their statements and settlements?
Usually they're pretty happy because they're very specific. They know exactly what they're getting paid for. They know exactly what is coming out of their statements, so usually they're pretty satisfied with their statements.
Has Axon Software helped with invoicing? Getting things out quicker?
Yeah, absolutely. We do use Axon for invoicing as well, so it helps communication between our payroll and dispatch departments. They can communicate really closely, and they definitely both need Axon in order to be successful on both ends.
Can you talk about how your company has grown this past year?
We went from about 8 drivers all the way up to 100 drivers. As far as internal employees, I would say we started out with 4 and now we're up to about 8. Yeah, we've grown. Axon really helps us stay organized within each and every department here at Starr. We haven't had to grow our internal employees very much at all, because of Axon.
Do you think the software has paid for itself?
I would say within 3 months, it paid for itself.
Does Axon Software help you improve and keep track of your customer relationships?
It helps tremendously there as well. I know that for our customer base, we like to keep them all stored in here. It helps us stay organized. And not only the customers, but the owner/operators that lease trucks and trailers with us, we have to keep their information as well. Also for our internal employees. We use it for literally every single part of our business.
Can you compare Axon Software to any other software you've used in the past?
Gosh, no, not really. It's not comparable to anything else. A few other programs that I use have recently gone through updates, and the updates have been completely frustrating, but Axon seems to stay consistent. It stays easy to use. There was an update and it was still completely easy to use. I could log in, I knew where everything was, easy access, still organized. The basics were still similar, which I really appreciate.
How would you describe the training?
It was very hands on. I started here with Starr during the smaller phases, so I actually got to do the accounting side, the safety side, and the recruiting side. I got to see those aspects of it, so I really saw how the program is beneficial with payroll and invoicing, and then I also got to see how it kept us organized with our drivers. I got to see who was in which unit, what trailer, that type of thing. I've really gotten to see Axon for its full potential.
If a peer in the industry asked you about your experience with Axon Software, what would you say?
I would say that Axon is great. It's easy to use, and like I said it keeps us extremely organized. Any time there are updates to the program, it's almost not noticeable in the fact that it's still completely easy to use, easy to access, and organized.
It's easy to use and it has everything that we need, and there is still constantly stuff that we're figuring out about the program. We're like, "Oh cool, it has this?" You know, I really don't have anything that I would add to it… We rely on Axon very heavily every single day.