AXON HAS MORE THAN PAID FOR ITSELF
"I probably would have had to hire three more people had I used any other program than Axon. And I've used other programs, so I know their limitations. That was key to opening this company and one of my first demands was please trust me, this (Axon) will more than pay for itself"
Malissa Malugani
President
Eagle River Energy Services
Fort Worth, TX 76104, USA
FREE BOOK – "HOW WE TRIPLED OUR FLEET SIZE WITHOUT ADDING ANY OFFICE STAFF"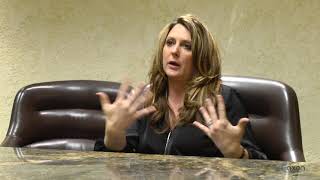 Eagle River Energy Services didn't waste any time at all. Only 16 months old at the time of this interview, the company hit the ground running and took full advantage of the boom in the US oil and gas industry. We spoke with Malissa, the president, to see if she would share some of the knowledge that led to the huge success of Eagle River.
I am Malissa Malugani, President of Eagle River Energy Services. We have an office out of Fort Worth, Texas, basically servicing Texas, Oklahoma, Louisiana, and New Mexico hauling frac sand.
When did you first start using Axon Software?
We actually used Axon at a previous company for about a year and a half. Then, when we knew we were going to open this company, Axon was pretty much a must. We were not going to use anything else, and we have been using it here for the last 16 months.
Can you tell us about your experience with Axon Software?
It's been fantastic. The support team is great. The software itself is fantastic.
Everything is real-time and integrated with our accounting, so that was key because we have a separate dispatch office and with Axon there was no separation between the two offices.
Can you tell us about any problems Axon Software has helped solve in growing your company?
Our growth wouldn't have been possible without using Axon because of the integration of the dispatching and accounting software. The integration is key compared to using QuickBooks or other programs, especially since we do such a high volume of loads in a month.
As for solving some of our hiccups, it has actually really helped make sure the drivers are accountable for their paperwork, because we can upload the documents and attachments for each load.
With our separate office, everything is updated here so we don't have a bunch of back and forth paperwork.
Does the system of applying expenses back to the trucks work well for you?
Yes, it does, and the settlements are fantastic. Especially where there is something specific that wasn't auto-billed. Axon allows us to post multiple transactions for multiple trucks in the same week. We can see everything that we posted in the week. It has helped tremendously.
The drivers like their settlements and they are very easy to read. When you go through it once with an owner, there are really no questions after that. That was another key why we didn't want to use anyone besides Axon. You can have the breakdown as detailed or as broad as you like it – for us, we need the detail. It is very easy for an owner to follow, and even for the girls to follow that aren't familiar with it if they get a call asking about it.
Do you do any factoring?
We do, and that has been fantastic with Axon. We actually had a change in our factoring since we opened the company. The initial Axon setup we had was reserves, and it was set up properly. Now, we converted to a factoring structure where we get 100% funding upfront, minus the fee, and we could modify that in the Axon setup. Moving forward, everything is adjusted, but we still have the records from before.
The factoring has been very clean. We haven't had any problems with it at all, and it runs smoothly with our factoring company downloads. It has been great.
Did Axon Software play a part in helping your company grow?
When we first started, we had 12 trucks. We had 3 employees on the billing/accounting/safety side. Now we are in month 16 and we have 120 active trucks. The system has no problem keeping up. It has been great. We have only added about 3 people total since the beginning.
It accommodates growth very easily, and that was a big key from day 1. We knew we were going to grow quickly, so we wanted something that would have no limits and would stay consistent, whether we had 12 trucks or 300. If not for Axon, I would have had to hire people just to babysit – keeping dispatching and accounting together.
We grew 60 trucks within the first 3 or 4 months, and I didn't lose my mind because I had Axon software. There is nothing else that could have accommodated the growth that quickly.
If you were to add more trucks, would you have to add more employees?
Maybe because of something external, as far as dispatching and having people in two offices. But as for the software itself? No, I think I could lay more things on people because Axon allows people to do multiple things. I don't have to double and triple staff because we have this infrastructure and we stuck with our original plan.
Without Axon, I would probably be triple-staffed right now. Thank God the ownership listened to me and agreed to use Axon because we would have been in a pickle otherwise.
Do you think Axon Software has paid for itself?
Oh yes, hands down. My sanity alone, it has paid for itself. Easily. I have saved probably at least three full-time salaries had I used any other program than Axon – and I have used other programs, so I know their limitations. It was key to opening this company.
Has Axon Software helped you maintain or improve your customer relations?
The invoice customization was key. Axon allowed one of our main customers to put fields in a certain way that they had to have – the same field, the same number, but 3 different ways. And it has to show one way on their invoicing. Had we not been able to make tweaks, I don't know how I would have been able to invoice for them, because they're not going to change their system for me.
How do you rate Axon Software's customer support?
I love them. Axon's customer support team is phenomenal. When you call, it's great because even if people are busy, you get a person on the phone and they let you know that somebody is going to call back. That part I love – you actually speak to a person and don't just sit on hold. Once you get somebody on the line, usually the Axon team member will stay on the phone with me until the problem is solved. If they need to work something out, they will call back, and they will tell us that this person will be calling back, so expect a call at this time. It's consistent.
How would you describe the software's ease of use?
As far as teaching, especially to a brand-new person, Axon is one of the best I have ever used. It really is.
I have had to teach people that have no trucking knowledge whatsoever, that are completely new to the industry, and I am able to walk someone through in 3 or 4 days. They sit and watch different departments until they feel like they can jump in themselves. I think that's amazing.
I have been in other industries and businesses where it would take people months to feel comfortable in a software program. The design itself, the ease of use between the different modules, I think it is phenomenal.
If somebody in your industry asked about your experience with Axon Software, what would you say?
I would say if you start a trucking company and don't choose Axon as your software, you are probably going to regret it, and you are going to waste a lot of time and money.
You are probably going to switch to them eventually anyway, and you are going to wish you had picked them from the beginning.
That is how confident I am in the software. The ease of use, and knowing that as things grow, Axon is going to accommodate the growth and changes. I can't imagine using another software.