DOUBLED OUR BUSINESS & REDUCED TEDIOUS IFTA REPORTS
"It makes our IFTA reporting so much simpler. You don't have to worry about calculating all the different gallons purchased in different states. All of that is already accumulating in the background, so when it comes time to run our IFTA report, it makes it a breeze."
Irma Sarmiento
Owner
F & A Express LLC
Laredo, TX 78045, USA
FREE BOOK – "HOW WE TRIPLED OUR FLEET SIZE WITHOUT ADDING ANY OFFICE STAFF"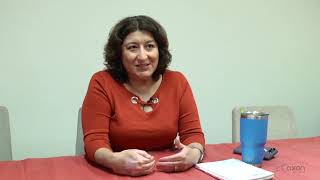 F & A Express from Laredo, Texas has recently gone through an explosion of growth and success. How do they explain it? We spoke with Irma Sarmiento to learn more about their Axon Software experience.
My name is Irma Sarmiento with F & A Express LLC in Laredo, Texas. We haul dry freight in all of the United States.
Tell us about your company.
My husband is a truck driver. He got his own permits and we started the company back in 1994. I came on full-time with the company in 2009, took on the accounting department, settlements and stuff like that. When I started back in 2009, we had 25 trucks, and right now we're at 150.
We started using Axon about 2 years ago. We were looking for something that was all-in-one, because at the time we had Internet Truckstop for dispatch, we had something else for accounting, we had Excel sheets for the remainder of the equipment and when all the inspections were due. We wanted something that would have everything in there. Driver files, stuff that you can get reminders on, without having to actually go in through different Excel files.
Can you tell us your experience in dealing with Axon Software?
It has been wonderful. It's very easy. At first, like anything, we didn't want anything new. It was difficult for the staff to actually try something new… But once they got to learn the system, everybody loves it. It's super easy to go through the different screens.
What are some of the problems Axon Software has helped you solve?
IFTA reports were very tedious. I remember having my kids help me, back in the day, find the total mileage, the fuel consumption of the different units. Now, it's just a click on several buttons and it's done. That in itself is awesome.
Payroll settlements. The driver settlements are super easy. You do the routing, and we have EFS integrated so we never forget to deduct a cash advance or anything like that. Whatever we need to reimburse, it gets reimbursed. The drivers like it because everything is laid out. The mileages, the route they took, whatever we're deducting, everything is on there. That's what we like.
When we run equipment statements, Axon actually gives us the option to run a report of a driver's perspective, to see if the driver or owner-operator is making money.
At the same time, we can run the Axon on the company's perspective, and it tells us how much profit we're actually doing. It gives us some insight on lanes, maybe we need to go back and revisit rates, stuff like that.
Has it helped with invoicing and receivables?
It's wonderful. We get the drivers' PODs and we open up Axon, go to the order, pay the driver, and invoice at the same time. We attach everything there. If someone is looking for a POD, it's easy for any of us to access Axon and print it out or email it right there from the screen.
We use a factoring company, so that notice of assignment is put in there as soon as we invoice an order in Axon. The invoice already has that. There is no need to stamp it, we can email it right there. The turnaround on getting paid is a whole lot faster.
Back in the day, we used to have copies and file them by driver, so we'd have to go and search who actually did the load, then go to that file, pick out the load, and scan it in. With Axon, we can search numerous ways: the customer, the trailer, the PO number, the driver and even give it a date range. It will pull it up, and you can just access the order. It's a whole lot simpler.
Has Axon Software helped grow your company, or saved you any money?
When we started with Axon, we had maybe 65 trucks. We have more than doubled in the last 2 years. I think we've only hired 2 additional people, but that was for the 2 additional companies that we have opened up. We haven't had to hire anyone else.
If we hadn't used Axon, I'm sure that we'd have to hire at least 5 or 6 more people. It has saved us over $200,000 for sure, probably more. I wouldn't know the exact figure, but Axon has saved us a tremendous amount of money.
Has Axon Software helped with driver happiness and retention?
At first, they were used to seeing their settlements with just miles. We were paying loaded miles, empty miles, and their rate, so we had to attach a copy of PC*MILER and a copy of their fuel report so they could see how much we were taking off in cash advances. So that was 3 pages.
With Axon, all of that is integrated. The driver sees the actual route – Laredo to Chicago, whatever – it tells them the miles that they're being paid, the rate, if they had any stop box or layovers, all of that information is right where they can see it, including the additional amount that they get paid.
All their cash advances, or anything that we need to deduct is already imported. It went from being a 3-page settlement to a 1-page settlement. The drivers are very happy that everything is clearly stated on the settlement – and we're saving paper.
It's good for driver retention, because we give our drivers a bonus. If they are able to run X amount of miles in a month without any violations or citations or accidents, then they are eligible for bonuses. Axon is great for giving us all that information.
Has Axon Software helped with customer relations?
At F & A Express, we like to give 110% for customer service. Since we started with Axon, it has given us the opportunity to provide information on the spot. If they are asking for a POD, it's readily available. If we want to know how many loads we did for a certain customer, within a certain timeframe, that information is super easy to find in Axon.
It gives us an idea of where we are at with rates. The market goes up, it comes down, and it's a tool that we use to analyze our rates. Axon is wonderful. Especially that Order Master Report, because it gives you the average rate that you're getting on a load. It can tell you how many loaded miles you have, and how many empty miles a unit ran.
Can you talk more about your EFS fuel card system being hooked into Axon Software?
Before Axon, the way we used to do it, we had to have an accounting person run the miles for drivers on PC*MILER, and we had to have another person run the fuel reports for all the drivers that were coming in. It was a matter of going back through his previous settlement to see where we had finished taking off his cash advances, and then starting it from that date. We wanted to make sure not to miss any.
Now with Axon, we get our fuel because our EFS is integrated. – downloaded into Axon. Now, it doesn't matter what driver comes in. There is no need for us to go back and see when the driver last fueled or took out a cash advance – it's all in there, so it saves a lot of time. Instead of having to go through, driver by driver, and running the reports… It's not even 5 minutes and we've downloaded it. Big time saver.
It makes our IFTA reporting so much simpler. You don't have to worry about calculating all the different gallons purchased in different states. All of that is already accumulating in the background, so when it comes time to run our IFTA report, it makes it a breeze.