VERY USER-FRIENDLY TO WORK WITH
"I use Axon every day for my ACE manifesting, for entering all our orders, checking up on all our equipment, making sure the safeties are done, for the different permits that the guys get for running the interstate and the states. And all the expiry dates are entered in the system."
Jess Blair
Operations Manager
Gibson International Carriers
Moose Jaw, SK S6H 5V2, Canada
FREE BOOK – "HOW WE TRIPLED OUR FLEET SIZE WITHOUT ADDING ANY OFFICE STAFF"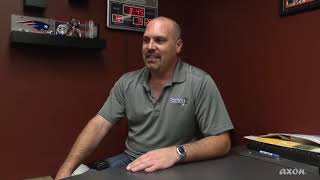 SAVED US $280,000 IN ADMINISTRATION COSTS
"Axon has saved us about $280,000… just in administration costs alone. It has basically allowed us to double in size with the same personnel… And that's also based on about 5 to 6 million dollars a year in revenue growth as well…"
Dean Lang
Owner
Gibson International Carriers
Moose Jaw, SK S6H 5V2, Canada
FREE BOOK – "HOW WE TRIPLED OUR FLEET SIZE WITHOUT ADDING ANY OFFICE STAFF"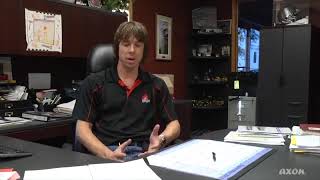 Gibson International Carriers is a cattle hauler headquartered in Moose Jaw, Saskatchewan, and operating across Canada and the United States. We sat down with Dean Lang and Jess Blair to talk about their Axon Software experience over the past seven years.
I'm Jess Blair with Gibson International Carriers and I'm the Operations Manager.
I'm Dean Lang, one of the owners of Gibson International Carriers, along with my wife, Penny Gibson-Lang.
We're associated with Gibson Livestock – they're our main customer – but we are a for-hire carrier. Gibson International was incorporated back in 1991 by my father-in-law, Ryan Gibson, primarily to move his own product. In September 2000, Penny and I bought the business from him and have been going ever since.
How many trucks are you operating compared to when you started with Axon Software?
Dean: Previous to Axon, we were running about 16 to 17 trucks and now, in peak season, we're around 34. In the off-season, we'll drop off to the 28 range.
Tell us how you use Axon Software on a daily basis.
Jess: I use Axon every day for my ACE manifesting, for entering all our orders, checking up on all our equipment, making sure the safeties are done, for the different permits that the guys get for running the interstate and the states. And all the expiry dates are entered in the system.
It's a very good system for the dispatching end of things. If somebody gives me one number, whether it's a bill of lading number or an invoice number, I can track that order down in a matter of seconds and find out if there's an issue. If there is, I can get it resolved quickly. It's just easy – very user-friendly to work with.
Dean: Axon's made my job very simple because of my schedule. You're out to the field early, and certain times of the year you're in late. So I can come in here at six in the morning or ten, eleven o'clock at night checking receivable reports and everything.
I don't have to rely on my admin. people to be digging up reports with piles and piles of paper. Within two or three minutes, I have my whole report in front of me.
How did you do it before Axon Software?
Jess: Well, it was a lot of manual labor and a lot of paper filing. There were three of us, and everyone had to be on board and know where everything was at all times. We had multiple filing cabinets before, and it was all done manually. Now, everything is in the computer system.
Can you put a dollar value on what Axon Software has saved you over the last seven years?
Jess: Well, we'd probably need at least two more people to keep track of everything, with how fast things change in our industry. It's not your typical industry where it's day by day. We are five minutes by five minutes. Our stuff changes that fast at the peak of our season, so you really have to keep on top of it, and Axon helps us do that.
Dean: We took on Axon in 2006. Over that seven-year period, we believe that Axon has saved us about $280,000 just in administration costs alone. And that's also based on about 5 to 6 million dollars a year in revenue growth as well. Just for one admin. person alone, we're looking at roughly $40,000 a year. So that's a quarter-million dollars per person plus after seven years, easily. That's one person, and that's just their salary; that's not what I match in deductions, health care, group benefits, all those kinds of things.
Instead of adding 2 or 3 more staff, as far as the accounting part of things, the staff has stayed about the same. It's basically allowed us to double in size with the same personnel doing the same job.
Then we've got the things that maybe we can't put a value on – just the stress of going through reports or paper trails or all that. Trying to find where you're out this much money, where you made a mistake, where the lease operator didn't get paid. You know, those are things that I'm not sure you can put a dollar figure to but are relieving a lot of stress.
Without Axon Software, would you have been able to grow the company the way you did without increasing your staff?
Dean: No, not at all. Axon has adapted to the trucking industry, you know. They specialize. It's not just one of these makeshift programs that a restaurant's going to have and the gas station and all that. It's totally adaptable to the trucking industry and staying up with all the protocol that comes along with cross-border shipments. It's a huge part of our growth. There's no question about it.
How has Axon Software helped with customer relationships?
Jess: Well on our end, it seems that I'm more organized and I know what I'm doing. That keeps my customers' faith in me. It really helps, especially when you can find stuff that fast. It really helps with your customer relations because it seems like you're organized, and you know what you're doing.
Dean: When an invoice has maybe been generated with mistakes on it, it's a lot easier to look at it quickly, see where the mistake was, and correct the mistake, because that's a big problem with receivables. There are large companies out there that don't really care that you made a mistake on it; it just gets pushed to the side. They're not going to notify you that you made a mistake; they just won't pay it until you phone.
With Axon, it's a lot nicer because once you've entered the information in the first place and it's correct, that information is all there. It just goes from one screen to the next, right to the billing stage.
How do you find working with the Axon Software support staff?
Jess: "They're very, very helpful. You can phone Axon and, if all the support techs are busy, within ten minutes they're calling you back. Maximum ten minutes; a lot of times it's a lot quicker. I've built a relationship with a couple of people that I like to talk to, and they do a phenomenal job for me."
If one of your peers in the industry asked you about your experience with Axon Software, how would you explain it?
Jess: I have recommended Axon to a lot of people.
Dean: Oh, we've come across that several times actually. You know, with the Axon system the initial reaction is that it's fairly costly – and it was an issue with us, right? We first received a proposal from Axon back in 1998, but we didn't bite until 2006. But once you make the jump, it's like it only costs once, I guess is the way to put it.
We're totally on board with it and probably the biggest thing is – yeah, the program is easy to work with – but probably the biggest thing is customer support.