AXON SOFTWARE SYNCHRONIZED OUR IFTA, PAYROLL, AR & AP ALL IN ONE PLACE
"If we were not using Axon, and had the same number of trucks, I would assume that we'd need at least 2 more people in our office to carry the workload that we currently have."
Amit Kumar
Owner
Golden Express Trucking
Surrey, BC V3W 4G5, Canada
FREE BOOK – "HOW WE TRIPLED OUR FLEET SIZE WITHOUT ADDING ANY OFFICE STAFF"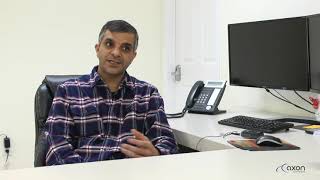 Golden Express Trucking primarily hauls reefer loads across the Canada/US border. Interestingly, they have been running the company with the same software system for over 11 years – Axon Software. We spoke with Amit Kumar to get his perspective on the benefits of their long-lasting partnership.
My name is Amit Kumar and I am with Golden Express Trucking based in Surrey, BC.
Can you tell us a bit about the company?
We have been in business since 2006 and we operate about 25 trucks. We haul reefer produce between points in Canada and the US, basically from British Columbia's lower mainland down to California and Arizona. From there, we bring loads back to BC, Toronto, or Alberta – depending on what pays well. Market conditions and the availability of trucks dictates where we go.
I started in the trucking industry because I couldn't get a job. I moved from India to the States, and from there to Canada, around when the dot-com bubble burst and I was in IT. That was a time when jobs were very scarce. Pretty soon after I landed, September 11 happened, so it was a mini recession at that time. Trucking was an industry which would still pay well, and there are no limits or boundaries that restrict you from coming in. That's what led me into trucking, and the rest is history. I kept working and here I am.
Can you talk about what led you to Axon Software?
We started using Axon in 2008. Before Axon, we tried two different software systems at Golden Express. One was a small customized software that the company already had before I moved here. I don't remember the name of that software. Then we tried another solution from a company based out of Toronto, and it didn't have everything that was needed to work efficiently.
I started looking for other options, eventually ran into Axon, and contacted them.
Has Axon Software helped streamline your business?
Axon is very detailed in what we can accomplish. Anything we can think of in regard to moving a load: how to associate trucks, drivers, trailers, picks and drops. It is very detailed in that sense. You just have to think about it, and you can do it in the software. It gives control over how we handle freight and invoice customers.
Before Axon, some things would get overlooked and not get billed. Some things were double-billed. There were times when we were using spreadsheets to keep track of checks. PC*Miler was used to generate miles, and then payroll for the drivers, and everything was done separately. It was not synchronized.
Axon gave us the ability to put everything in one place. We started doing payroll on our own and AR/AP without depending on outside help.
How do the drivers like the new statements you provide?
The drivers actually do appreciate the fact that we give them detailed statements, and owner operators do as well. Everything is properly laid out for the drivers or for owner operators – the way the load was run. We put the point of origin and the route that the driver took – all the places it picked up or stopped on the way to the destination – and because it's integrated with PC*Miler on the backend, the miles are always accurate.
It takes away the doubt that people would have about getting paid. We show all stops on the statement and there is nothing to hide, because we want to pay people for the work they have done. When they see everything is being properly paid out, they appreciate it. We have very few complaints. They appreciate the fact that everything is properly disclosed with nothing hidden. People have said that the pay records are very good, detailed, and on point.
Have you grown since you purchased Axon Software in 2008?
We had about 12 trucks at that time and now have 25. We were 4 people in the office at that time. We're still 4 people in the office. If not for Axon, I assume that we'd need at least 2 more people in our office to carry the workload that we currently have.
The easiest thing about working with Axon is that the system doesn't care how many trucks we have. Once we have everything in place, all the work gets done and allocated to everybody – each individual truck or driver. It's more organized and that helps us get the benefits from using the software. The workload hasn't increased, even though we have more trucks.
Has Axon Software helped you with customer relations?
Axon has definitely helped us in satisfying our customers' needs for on-time and proper billing. There is always the ease of going back in the system where we store all the documents associated with a load. Any time a customer requires something, even as far back as 10 years ago, we can pull that file and send them the document. It has been very helpful and yeah, the customers do appreciate that.
How do you find the support?
Axon support has been great. There are times, especially when we started using it, that we wouldn't know how to do something and would call support. Somebody would get back to us, connect remotely to our system and guide us through the steps that would get us a desired result. There were times when they've gotten senior programmers involved and got us what we were looking for. It has been great.
Do you find Axon Software easy to use?
I find it very easy. I've compared it with other companies who use different software, and Axon is definitely better. There are no complaints from my side.
If somebody in your industry asked about your experience with Axon Software, what would you say?
Our experience has been very positive. I think, on my recommendation, two people have already started using Axon.