WE WOULDN'T WANT TO OPERATE WITHOUT AXON
"The work is a lot more efficient, so we can handle more trucks and people with less staff... The program is so effective that we wouldn't want to be operating without it. It's part of our everyday business."
Marlin Gingrich
Director of Operations
Grandridge Carriers Inc
West Montrose, ON N0B 2V0, Canada
FREE BOOK – "HOW WE TRIPLED OUR FLEET SIZE WITHOUT ADDING ANY OFFICE STAFF"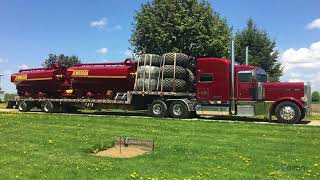 Grandridge Carriers of Ontario, Canada, made an investment about four years ago. They realized that, as the company kept growing, they would need technology to help streamline operations and keep hiring costs down.
We spoke with Marlin Gingrich to hear about how that decision has worked out for them so far.
I'm Marlin Gingrich, Director of Operations with Grandridge Carriers in West Montrose, Ontario.
I'm Marlin Gingrich, Director of Operations, with Grandridge Carriers. We are located in Elmira, Ontario. We're a flatbed, primarily a step deck, company. We go across North America, delivering farm equipment and a lot of other sundry goods that go on flatbed equipment.
We got into trucking probably over 20 years ago as part of our farming operation needed trucks. Out of that, we developed and started a carrier business that has continued and grown to what we are today.
We started using Axon about four years ago when we were looking for a more in-depth program to handle our invoicing, dispatching, and load coordinating. We did some research and we ended up going with Axon as a result of that research.
How has your experience been with Axon?
Dealing with Axon has been a very good experience for us. They have good support, and we can rely on them to help us with any challenges or issues that we might come across. In software and development, there are always things to be working on and looking at. We find them very supportive and we appreciate that.
How has Axon changed the way you do your operations?
Axon has helped us streamline our processes in a couple of different areas. Particularly in load dispatching, processing, invoice paperwork, PODs, and various areas where different documents need to be connected throughout the organization. It just has a good way of linking them together, whether it be with loads, equipment, work orders, or maintenance. Different things that we want to keep tied with each unit.
It is easily accessible for looking up in the future if it's needed. I like that very much.
Do the drivers like their settlements?
From what I'm hearing, it has been a great asset for them. It works well with the staff in payroll doing the work. Everything tied together makes it nice and easy for the drivers to understand. We get lots of good feedback on the program in that sense.
Has the company grown in the four years you've had Axon?
We have increased our company size in the last several years from 15 trucks to 20 trucks. Because of Axon, we haven't had to hire any more staff to handle the workload. The work is a lot more efficient, so we can handle more trucks and people with less staff. It will definitely help us as we keep growing in the future. We could definitely increase a considerable amount with the same invoicing department. Axon has been a big help in that part of the equation.
Has Axon helped improve your customer relations?
Axon has helped in the sense that we can pull reports for customers as they request them. Whether it be a POD, or work orders, or how many loads we've done for them in the past, or different things they might request. It's easily accessible for us to produce that report for them.
The program is so effective that we wouldn't want to be operating without it. It's part of our everyday business. Once we worked through the initial start-up stages and got it rolling and running, Axon has worked well for us.
How did you find the initial setup and training?
We had a good experience with that. Axon has an excellent support and training program, especially compared to what we had been using. We had good support and trainers willing to step in, giving us direction on the program. Going forward, there was still lots of support available and training as needed. I just appreciate that part of it. With software, it's a big part of things and is very important.
What is something that keeps you up at night?
Oh, boy. I don't know. It's not always the same. Safety – keeping our units and drivers trained, aware, and alert on the road. Realizing the seriousness of safety and the liability we are on the road with big trucks is definitely something that is always on our minds. It's something we don't want to take lightly and we do our best in keeping people alert and trained.
Axon has elements in the program that help with that. It makes it easier to manage some of those parts, keep everybody documented, and all the paperwork in place for that side of it.
If somebody in the industry asked about your experience with Axon, what would you say?
I would say our experience with Axon has been a very good one, and we have appreciated the relationship that we have with the developers and those implementing the program. We look forward to continued support as we keep looking at different avenues and develop our processes.