ELECTRONIC BILLING IS THE KEY TO TRUCKING COMPANY CASH FLOW
"We wanted all in one, inclusive of everything, all aspects of it. Your payroll, your inventory, your work orders, your fuel tax, general ledger, and all other aspects. Axon was attractive to us… Even third-party billing and work orders – we're able to utilize it all, and it's easy, too."
Blanca Garcia Escamilla
Manager
GTL Enterprises Inc.
Ellensburg, WA 98926, USA
FREE BOOK – "HOW WE TRIPLED OUR FLEET SIZE WITHOUT ADDING ANY OFFICE STAFF"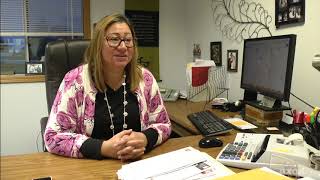 GTL Enterprises is a trucking company based out of Washington that has been around for a long time. In the last 10 years, something changed, which has allowed them to double their fleet while streamlining their office staff. We visited the company recently and had a chat with Blanca, who was able to give us details on their transition to Axon Software in 2009 and their day-to-day operations have changed since then.
I am Blanca Garcia Escamilla with GTL Enterprises. We are located in Ellensburg, Washington, with another location in Othello.
Tell us about the company.
This company has been existence for 20 years, but my dad had it for 60 years prior to that. So, we have the oldest MCs in the state of Washington. My brother is part owner of GTL, as well as Joe Draughtsman. They bring a lot of trucking to the party, as you can see.
We started using Axon in September of 2009.
Can you tell us about how you chose Axon Software?
Coming from other systems, it was an easy transition, to be honest. We were using three systems to begin with – TDS, QuickBooks, and Excel spreadsheets. None of those really meshed together, so we knew that we needed one system. We looked into having somebody write a system, but we learned that it was a phenomenal amount of money. It would be $150,000 just to write it. We knew that there were other systems out there and began looking around. My sister found Axon online and called them, so we had a small demo in the office. It looked very good from the user side of it.
What we wanted in the system was the accounting in the background – that was super important for us. We wanted all in one, inclusive of everything, all aspects of it. Your payroll, your inventory, your work orders, your fuel tax, general ledger, and all other aspects. Axon was attractive to us.
We like that you can actually get training if you call in for it. I have put personnel through the training who have very little computer experience, and they have actually been trained. It's a very easy program to learn, which I like. The functionality of dispatch and everything has been a very good thing for us too, because it can actually record revenue. You can forecast with this. It lets us know what's going on. We can get a P&L on every truck, which is nice. I have used it in many cases for that.
The support has been good – we actually like the support. There have been a lot of people with Axon that we enjoy talking to. Steve is one of my favorites, you can tell him I said hi!
Can you compare Axon Software with other software systems that you've used?
I have used Champion, which is a multi-database, and I have used Solomon. I have used some other software that wasn't industry related, but more accounting related.
What I like about Axon is that it has the drill-down kind of like QuickBooks, and that was really important. A lot of people like that aspect.
Axon has really good support, compared to dealing with other software. You actually get somebody that will call back. If I am not in the office and a staff member wanted some type of report, or needs something else, they can call into Axon. Support will go through what they need and help formulate a plan. They can even show right on the screen how to get information. Sometimes we have little miniature reports, little tools that they want, and I think that's important. We have different levels of people that use the software in different ways.
Axon support is very flexible, when it comes to that kind of thing. They seem to really listen to what you have to say, and then go from there.
Has Axon Software helped with your company growth?
Actually, since Axon, we've been able to double our fleet while decreasing by two positions. I'd say it paid for itself in the first year and a half, definitely.
Has Axon Software made your life easier in dealing with customers?
We are able to do more electronic billing. We email bills and statements to them automatically every day. It has been a really good thing because it helps our cash flow quite a bit. It has allowed us to collect a lot sooner, so that helps tremendously. We are doing things so quickly, communications with customers, we are able to get information to them right away. A lot of it is via email through Axon. That communication is phenomenal. We run fast.
That's key with a trucking company, because the fuel bills and parts… The bills come due. They don't wait, so you have to make sure that you get your money in time to pay all the bills.
Do you use any factoring companies?
We have. We actually have an owner/op that we're paying on a factoring company. To facilitate that hasn't really been bad. It was something for us to learn in Axon, but actually it has been really good. It can facilitate all of that on both sides, the AR and the AP. I haven't had a problem with it. I thought it was really easy to use. Even third-party billing and work orders – we're able to utilize it all, and it's easy, too.
When people in the industry ask about your experience with Axon Software, what would you say?
It's definitely worth it. It may seem huge at the beginning, but you really get your money's worth and then some. It's just a money saver in many cases. It's very transparent and fluid where it needs to be. The software itself was designed for the trade – I see a lot of good things in that regard. It's a good system and I would highly recommend it. In fact, we always do.