$70,000 PER YEAR SAVED + MUCH FASTER RECEIVABLES
"Since using the Axon Trucking Link App and Axon System, we've saved an average of about $70,000 a year in postage as a trucking fleet, and we've cut down our receivables from weeks to days."
Josh Fuller
Owner
Hopper Dispatch
Lake City, FL 32025, United States
FREE BOOK – "HOW WE TRIPLED OUR FLEET SIZE WITHOUT ADDING ANY OFFICE STAFF"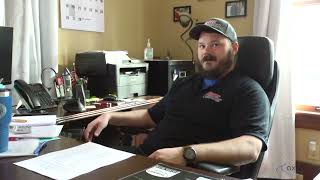 I'm Josh Fuller, Owner of Hopper Dispatch in Lake City, FL.
I'm Josh Fuller, owner of Hopper Dispatch out of Lake City, Florida. We are a dry bulk agricultural commodity transporter.
My great-grandfather was a peanut farmer in a small town called Parrott, Georgia. My grandfather got an accounting degree from the University of Georgia and returned to Parrott in the '60s. After my great-grandfather passed away, my grandfather took over the family business and grew it from a peanut farm into a trucking company and commodities brokerage.
He sold all of that off in the '80s and went to work for somebody else in the same business, but he got back into it for himself in 2000 and hired my mother. I joined the company in 2013. So, it's been in the family for years.
We've been using Axon for five years now. We're extremely happy with it. Axon is always there when we need them. Great customer support. It has definitely helped us continue to grow our trucking fleet, in a way that we otherwise couldn't without hiring copious amounts of personnel to handle the paperwork.
Axon is an amazing program. Compared to other programs that do the same thing – I mean, there is no comparison. This program has been wonderful. We run two billing clerks and three dispatchers now. We're running 50 bulk trucks on a daily basis, plus some outside trucks. My staff are doing all the billing for this in, really, two days.
When we started with Axon, we had about 30 trucks. It was just me and my mother who passed two years ago now. We didn't even have a billing clerk or anything then.
We were doing everything: all the truck dispatching, load booking, billing, accounts receivable, all of that until we hired a new person to handle billing and accounts receivable.
Axon has definitely helped with the ease of growing. We could add another 25 or 30 trucks easily with the current staff that we have.
If we didn't have Axon, I would probably have to add at least one more billing clerk and another dispatcher to handle it.
What kind of problems has Axon helped you solve?
The biggest thing is the quick turnaround of paperwork. It's integrated with the smartphone app. Drivers can take the photo and send everything right back to us. We are billing out stuff to customers every single day versus waiting to get it in the mail.
Our cutoff is on Tuesdays so, before Axon, Mondays and Tuesdays were a nightmare. Paperwork didn't show up on time. We pay our folks at the end of every week, so it's such a quick turnaround. If your paperwork gets hung up, and it doesn't get here on Tuesday, you don't get paid. Axon has taken out that factor and saved us a bunch of money at the US Postal Service.
The whole program is integrated from start to finish. It's wonderful. We key everything in and send it out with the smartphone app, with push notifications to the drivers. They get all the information with every single detail possible.
I love that we can put in notes and comments to remind them of blind shipments, or wash-out requirements, or any of those other FDA regulations that we have to do with handling food-grade products.
Everything just comes back. It's all integrated. We can find out where folks are with the passive tracker, which is great. We come in in the morning and a customer is calling, "Hey, where's my truck at?" One click, "Oh, he's sitting in your parking lot. Pinged 25 minutes ago." So, we've been just thrilled with it.
The Axon app is very useful. It's on their tablets in the truck with the ELDs, all in the same place. It has worked very well.
How do the drivers feel about Axon?
My drivers love it. It's very user-friendly. It saves 30 bucks a week per driver on paperwork, because everything would be sent through FedEx or UPS otherwise. $1300 a year, per driver, over the whole 50-driver fleet. That's a tremendous amount of money and headaches.
I would definitely say Axon helps us retain drivers and keep them here longer.
Do you find the software easy to use?
It is extremely easy. I have had employees up into their 60s that have worked with me since we've had it, and ones that were borderline computer illiterate, that were trained extremely quickly in the software. It just flows so easily.
It's completely user-friendly. Completely customizable to every user. We've all got almost the same bookmarks and shortcuts but tweaked differently. That's just the customizable aspect of the system.
Has Axon helped you with customer relationships?
I think it has helped us build customer relations. It has been a great tool. Like I said before, the app and the passive tracker are great. We can see where they're at or where they last pinged, if they made it in to get loaded or not.
Some companies that we deal with are massive companies. They've got 30, 40, 50 plants all over the country and you've got a merchandiser on the other side of the country dealing with 10 plants. Well, they're calling and want to know where something is at. The drivers are unloading or back at the plant; the plant failed to tell them he is there. I pull it up on the tracker, "Oh, he's in the back shed over the pit." They say, "Oh, okay. Thank you."
So, the tracker is very useful. It helps us stay on top of the drivers and get information to everybody.
The turnaround on paperwork is unbelievably fast, because as soon as our guys get unloaded, they upload all the paperwork and it's here. We can produce it, and it keeps our customers extremely happy.
How has that affected your cash flow?
It's done wonders. It's taken our receivables down from net 30 to about 12-15 days. The turnaround on it for cash flow is wonderful.
It has cut the time between paying our employees and getting the settlement and everything back from the customer in half in most cases. I'm extremely happy when the money keeps flowing in without any problems.
What has been your return on investment with Axon? Has it paid for itself?
It's been invaluable to us. We do all our billing, all our dispatching, all our accounts receivable through Axon. I can't put a dollar amount on what it has saved us. A lot of headaches and many countless hours that it has saved.
Since using the Axon Link app, we've also saved an average of $70,000 a year in postage as a trucking fleet, and we've cut down our receivables from weeks to days.
Can you talk about why you chose Axon over any alternatives?
We didn't find that other software was as customizable as Axon was. There were a few programs that we had demoed. Axon was the clear front runner. We went through it and set it up for bulk. If I were to expand and decide to do anything besides bulk, it would be a phone call away to set it up. Van, LTL, liquid, or anything like that.
The amount of customization here is probably the thing that helped us make the choice. The price point, the customer service, I mean it's just the whole package. The entirety of the thing is amazing. We have been ecstatic, and we couldn't be where we are today without the program.
The technology allows us to run so many more trucks with the number of people we have here in the office. We've been able to expand, adding on another 20 trucks since getting the program, while only adding one more dispatcher and a little bit of help in billing. The amount of money that it has saved us on personnel and overhead for payroll is exponential. It saves us at least two salaries a year, if not more.