AXON SOFTWARE HAS STREAMLINED & SPED UP OUR PROCESSES
"We do all the billing here, and now we have less billing errors because our agents input all their information. It is more correct because they are the ones that actually dispatched. They know what the rate was at the time so it's correct, and it has substantially cut down on billing errors."
John McCallister
President
J P Graham Transport
Rochester, PA 15074, USA
FREE BOOK – "HOW WE TRIPLED OUR FLEET SIZE WITHOUT ADDING ANY OFFICE STAFF"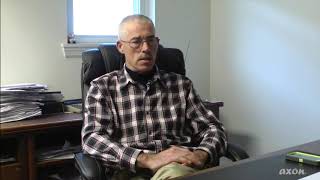 J P Graham Transport had trouble finding software that worked for them, with their unique way of operating the company with hundreds of independent agents. They got by with something self-built for a while but kept up the search, eventually finding Axon Software. We sat down with John McCallister to find out how they liked the change.
I am John McCallister, President at J P Graham Transport.
Tell us about your company.
We are a Pennsylvania-based company, located 20 miles west of Pittsburgh. We have 235 owner operators, basically all driving flat beds, predominantly hauling steel.
All my agents are independent contractors. They all work on commission and they all have a truck, so they handle their own trucks and work with other agents to keep their trucks loaded. The trucks work on a percentage, and our agents work on a percentage, and we handle billing and paying the trucks.
We started using Axon in August of 2013.
Tell us about your experience.
It was a challenge getting started, but once we got it running it has proven to be worthwhile. It sped up our billing process and in turn we are able to pay our drivers faster. They are always happy to get their money fast.
What kind of problems has Axon Software helped you solve?
It has tied pretty well into our scan system, which helped streamline the billing to that degree. The other part of it is we have gotten our agents pre-billing the loads. It has streamlined and sped up our process.
We do all the billing here, and now we have less billing errors because our agents input all their information. It is more correct because they are the ones that actually dispatched. They know what the rate was at the time so it's correct, and it has substantially cut down on billing errors.
It is saving them a lot of time also because the old way we had to fill in pay-off sheets and billing sheets, and they don't have to do that now. They just pre-enter it into the system, and it tells us everything. There is no longer a need for that paper trail from them.
Has Axon Software helped you to increase the size of your business?
Since we got Axon, we have increased our truck count by 35 without adding another employee. This would have been close to impossible to do otherwise. I figure I could add at least 30 to 50 more without adding another employee.
How do the staff like using it?
At first, they cried! But they have all adjusted and are doing well on it now. I just think the girls needed to take time and train before they used it. I had a couple who didn't think they needed training and they struggled really badly.
Once we got all set up and running, it has been very easy, very friendly and useable.
How did you find the training with Axon Software?
The support group has been great, and overall the experience has been good. They have been very good in training my remote locations, which has taken the burden off of us. I had to do it before, and I only had two offices working on our old system. Now I have about 20 on Axon. It has streamlined. It has been a lot faster.
Can you compare Axon to other software solutions?
The reason I built mine before was because we couldn't find a program that handled advances right. Axon is a lot easier on cash control. We had about five different checking accounts – different locations – and I had to reconcile each one of those. Now I'm not doing that.
This system has been more stable. The other system I had was a custom-built program, and then I had another program that we had to transfer all the data into. There was always stuff lost in between. This is live, so it has been a lot better at that end. Axon being live has eliminated any transfer issues we had before, so that has helped us a lot on the correct numbers being there. We are happy about that.
Overall, I would give Axon a nine out of ten.