IF WE KEPT USING OUR OLD SYSTEM, WE WOULD NEED 10-15 EXTRA STAFF
"As much staff as we used to have to run 20 trucks, is what we use to run 55 trucks… If we would have used the old system, we would have had to increase probably 10-15 staff members to do the same job we're doing right now with Axon."
Mike Kistner
Sales Manager
Kelsey Trail Trucking Ltd.
Saskatoon, SK S7K 8H4, Canada
FREE BOOK – "HOW WE TRIPLED OUR FLEET SIZE WITHOUT ADDING ANY OFFICE STAFF"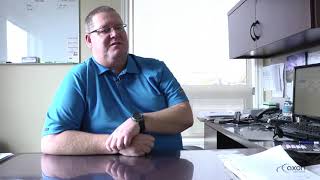 A SMALL INVESTMENT, TO MANAGE A LARGER ONE OF A FEW MILLION DOLLARS
"You get a few million dollars' worth of equipment … If you can't get information at the right speed, then you are always behind the eight ball. It's a small investment, to manage a larger one…"
Jim Clunie
President
Kelsey Trail Trucking Ltd.
Saskatoon, SK S7K 8H4, Canada
FREE BOOK – "HOW WE TRIPLED OUR FLEET SIZE WITHOUT ADDING ANY OFFICE STAFF"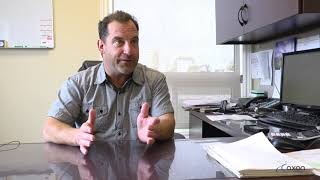 WE GREW FROM 20 TO 55 TRUCKS
"Before we had Axon, we had 20 trucks. Since Axon, we have grown to about 55 trucks and in that time virtually haven't had to change our staff numbers"
Taylor Nantell
General Manager
Kelsey Trail Trucking Ltd.
Saskatoon, SK S7K 8H4, Canada
FREE BOOK – "HOW WE TRIPLED OUR FLEET SIZE WITHOUT ADDING ANY OFFICE STAFF"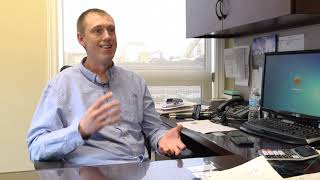 Kelsey Trail Trucking is an industry veteran, an ever-growing company with multiple locations in Canada. Around 15 years ago, they made the choice to invest in software and gain greater control of their business. We recently caught up with Jim Clunie, hoping to find out what contributes to his company's success and to hear about his Axon Software experience.
My name is Jim Clunie and I am the president of Kelsey Trail Trucking.
Tell us about your company.
The company was started by my parents Gordon and Eileen Clunie in 1981. I have been here since 1996 in a management position. We are located in Innisfil, ON, and Saskatoon, SK.
We have done flat deck work throughout the last three and a half decades, primarily in the Greater Toronto to Western Canada lane. We also bring a lot of stuff from Vancouver and deliver it throughout the Prairies. We started out with about three trucks and now we are around 65 trucks.
It is obviously a challenging business, but we don't really know anything different. Everything has been going along reasonably well right now, so we have a lot to be thankful for.
We started using Axon in 2002, and it's almost as if it was tailor-made for our needs – and I think our needs are fairly tricky, with multiple shipments on each trip of LTL. It is integrated so well with other products like PC*MILER.
I think it is far superior to anything else for our industry, like a typical QuickBooks or Simply Accounting-based product. I don't really know how much better it could get.
What are some of the problems that Axon Software has helped you deal with?
We overcame stumbling blocks with the time delay on our financial reporting. From the time orders are taken, we have all of our expenses taken out to the end product and we actually know about the financial performance of the company. Now we feel like it's almost live. It's no different than playing hockey – it seems like you can always look up at the scoreboard to see how you're doing.
That's the key to longevity in this industry. If you don't know how you're performing day in day out, it doesn't take long to start going backwards in a hurry. I think my job as the leader is to get accurate information daily – and then steer the ship from that.
As other suppliers evolve too, it's just getting better and better. Fuel companies' reporting is improving, so we get it integrated with our accounting and it's just super accurate.
There are hardly ever any surprises at year-end or month-end. I just love it.
Do drivers like the settlements?
Yeah. I think there are hardly ever any issues with the driver settlements. At the end of each pay period, it will be in their envelope and disputes are few and far between.
There are no real issues because it is so integrated with every step of the process.
Have there been improvements to invoicing?
A long time ago, it was around two weeks before we could get an invoice in the mail. Now we have a streamlined system where that is very consistent. Tracking our A/R is a lot of small transactions that add up – Axon makes it a lot easier to manage. That's for sure.
Do you make use of equipment revenue reporting?
Each piece of equipment is broken out into 100 different line items that we draw on twice a month. We basically drill into each unit and check its key performance indicators.
The nice part about Axon is that we can identify when there is an anomaly with a truck: the fleet averages, and our revenue per mile, and everything is broken out.
I think there is nothing better to be good at in this business than knowing your costs on a daily basis because they do still spike up and down. You get a lot of irregularities, but with our equipment revenue reporting we can red flag irregularities and little problems before they get to be a systemic train wreck. It's good.
With your increases in trucks, have you needed to add staff?
That is the age-old problem with running a fleet of trucks – how many people you need to employ on the inside to manage all the various needs. The trick with Axon is to fully buy in to everything. Use two or three key people that have really good order-entry skills and who understand when we have to do some tricky things – switching trailers and having two different trucks involved with one shipment – stuff like that.
There are very few problems that we have, and we do north of 1,000 entries per month. It is a lot of small entries that have to get dealt with and allocated. I think it's working very well.
Does Axon Software work for managing your three different locations?
Our biggest location is in Ontario and it's quite easy to get everybody entering the right data here. It can be accessed by me, or by someone else in accounting, or wherever. The way we have it set up with our IT program is pretty seamless. I can log on from anywhere and look at the scoreboard. I really don't have one thing to complain about, having multiple offices. I don't see any problems.
I don't know where we would be without it, especially with the kind of operation we have. It feels like it's tailor-made for us. I just don't think there is much to complain about.
Has anything changed from a customer-relations standpoint?
The nice part is that you can get some statistics on your customers – how many shipments we do per quarter, what our performance has been, what the costs and AR are like, and stuff like that. It's a really good way to study individual customers. We can find out how we are doing for them and hopefully help them with their business as well.
If someone in the industry asked about your experience with Axon Software, what would you say?
Oh, I would recommend it. With the industry and the economy in the state that they are currently in, I really don't know how you would survive without it at a certain level of fleet size.
I just don't think that there is enough margin and enough business out there that you can survive through these times without having super accurate reporting on a daily basis. Not two weeks after month end because that ship has sailed already – I think it's key to have a powerful tool that will help guide you through tricky times, because these are tricky times right now.
So, if you didn't have Axon Software today, would you be investing in software?
Oh, for sure. Keep in mind that when we switched over, we had already been in business for close to 20 years, so it's not like we didn't know what we were doing. You just get to the point where you can't run a bigger business with old information, finding out something was not as profitable as you thought.
If you can't get information at the right speed, then you are always behind the eight ball. It's a small investment, really, to manage a larger one. I think it's that simple. You get a few million dollars' worth of equipment and you need some software to manage it all, because nobody is going to put the numbers together that quickly. It's just smooth.