QUADRUPLED IN SIZE WITH AXON SOFTWARE
"We are able to generate all the IFTA reports automatically. What used to take a long time is now a very short period of time… The fuel downloads are very useful, very easy, and simple. We basically just click a button, and everything is downloaded into the system."
Adam King
VP of Business Development
KTI Ltd.
Pulaski, VA 24301, USA
FREE BOOK – "HOW WE TRIPLED OUR FLEET SIZE WITHOUT ADDING ANY OFFICE STAFF"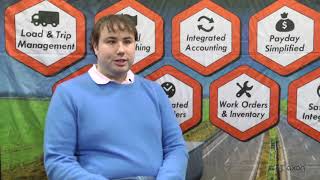 KTI Ltd. is a transportation company that grew quickly in a short period of time. Since moving to Axon Software, they have been able to more than quadruple in size. We spoke with their Vice President of Business Development, Adam King.
I am Adam King, Vice President of Business Development with KTI Ltd. from Pulaski, Virginia.
Tell us about the company.
We do transportation and warehousing and we have about 36 trucks. Our fleet runs over the road in 48 states as well as local and regional shuttles.
The company was started in 1995 and in 2009 we started growing. We started using Axon in 2009 and we expanded from a 5 or 10 truck fleet to 36 trucks. We have been growing ever since.
Tell us about your experience with Axon Software.
We have had a good experience. Our favorite things about Axon are the reporting features and the ability for our dispatch to communicate.
We have streamlined our invoicing and payroll processes. We used to do payroll and then we would do invoicing, but now we are able to do both at the same time.
We expedited the invoicing process because now everything is already right there from the time that we book the order and set it up.
Axon makes it simpler to audit and look for mistakes. We no longer have a double-entry system.
Does Axon Software help you do fuel taxes?
We are able to generate all the IFTA reports automatically. What used to take a long time is now a very short period of time. We simply generate the reports.
The fuel downloads are very useful, very easy, and simple. We basically just click a button, and everything is downloaded into the system.
It saves us a lot of time and money rather than having to manually input all that data into our order system.
Do drivers and owner operators like the new statements?
They like the way that everything is organized and detailed, and we are able to explain things to them if they have any questions. We also keep copies of all the receipts so we can go back if they ever need a copy and we can show that to them."
Do you like equipment revenue reporting?
We do like that feature. It gives us a cost-per-mile on each vehicle and we are able to track that on a regular basis.
Do you make use of satellite integration?
That is something that we are still kind of new with. The integration is still in testing, but so far it looks like it will be very useful for us.
Has Axon Software helped you with productivity in the office?
We have reduced the number of people that we need on the administrative side to process the orders and do the invoicing.
We have saved a lot of money by streamlining the process and it feels like we can grow and expand without adding additional people to the office.
With Axon, we would be able to increase our fleet by 20 trucks and maybe add one person.
Can you talk about the return on investment you get through Axon Software?
Axon has paid for itself. We can see a lot of savings, especially in the efficiency as well as in the data for reports.
It feels like, because we have Axon, we have access to all of our data. Before, we would have to go back through hard copies in order to gather up the actual data. It has really helped us to streamline everything.
Has Axon Software helped with your customer relations?
Yes, it has helped us.
There is one feature where the customers can log in and access the status of each order and see their invoices.
That has been a very useful tool for us to better communicate with our customers as well as for our dispatch to pull orders up based on different calls.
Depending on who is calling in, they are able to look up a different dispatcher's order to give a response on the status.
When customers come back to us with questions about certain things, we are able to pull all that data up in a report if we need to give the customer something that they can use.
How do you find the training and support?
If you can use Microsoft products, then you can use Axon.
The training was good. It's thorough, and we were able to ask a lot of questions. They really helped us out and our team seems to be more comfortable with the system, especially after the training.
The support has been very helpful. You call and, within 10 to 15 minutes, they call you right back. It has really helped us sort out different things that we were not exactly sure about.
Also, when we have a new person come in, they can call Axon and get the training. So that has really helped us save a lot on costs.
If someone in the industry asked about your experience with Axon Software, what would you say?
We very much like Axon, and we feel very comfortable. We feel like we can grow with Axon. It's a tool that we can use to really expand and scale our company.