AXON SOFTWARE SAVES US $400,000 A YEAR ON WAGES
"Axon Software has made it so much easier to keep track of inventory and the amount of parts we have on hand on any given day… After we had it for a while, we started to see that there is inventory that we haven't used in 10 months… I don't have to go and physically sit in the parts room to figure out what has and what hasn't been used."
Glenn & Zoe Lipsett
Owners
Lipsett Cartage Ltd.
Regina, SK S4R 8R7, Canada
FREE BOOK – "HOW WE TRIPLED OUR FLEET SIZE WITHOUT ADDING ANY OFFICE STAFF"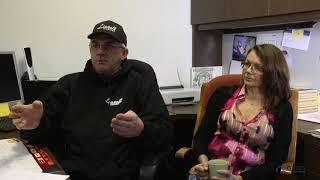 Lipsett Cartage Ltd., An Axon Software client since 2003 is a 50-unit, flat-deck hauler based out of Regina, Saskatchewan. They haul steel throughout North America as well as machinery, building products, lumber, and shingles – 'pretty much anything that will go on a flat deck.' Glenn & Zoe Lipsett talks about their Axon Software experience with growing from 20 to 50 trucks and not increasing any staff.
My name is Glenn Lipsett with Lipsett Cartage Ltd. My wife Zoe Lipsett has been working for me for about 10 years. She is the office manager here, and helps out with everything day to day but mainly licensing and insurance. All the reporting usually comes through Zoe's office.
Tell us about your company.
Glenn: The company was started in 1966 by my grandfather as a little delivery business. My dad expanded the business, and in 1982 I took over the company and started in the flat-bed business.
Probably 70% of our business is steel hauling as well as some lumber, shingles, and building supplies. We have about 40 Super Bs on the road and 10 tri-axle steps and flats.
When did you start using Axon Software to run your company?
Glenn: We had initially purchased Axon in May of 2003 after lots of consultation and discussions with the Axon people. We liked what we had seen and, to be very honest with you, it was probably one of the best purchases I have ever made.
At the time I thought it was a substantial cost, but in hindsight it was a very minimal cost for what it has done for the company.
What led you and your team to look for software?
Glenn: It was the doubling up that I was seeing in the office. Invoicing was going from one person to another person to another person, ending up on the accounting desk to try to keep track of all the leased operator revenue.
Everything was being entered two or three times. With Axon, we could enter it one time and it would flow through the system. It creates the operator statements and also flows right into the accounting end of it without having to enter things two or three times.
Can you tell us about some problems Axon Software has helped you solve?
Zoe: With Axon, when you put the order in it flows right to the truck and it flows through to accounting. You can go into a report on any given day and it will show which orders are still outstanding, and it tracks for truck drivers not handing in paperwork or losing paperwork. You always know where everybody is.
IFTA is phenomenal. Combined with the routing, it's just the click of a button for the most part. Invoicing is so simple – once the order is in, anybody can invoice. It takes you 30 seconds and you can do 15 invoices. You just hit complete. It's just simple.
Do your drivers like their settlements?
Zoe: Previous programs that we have used were not always very clear. Now, with Axon, they get their statement every two weeks – it shows their miles, it shows their revenue, it shows their year-to-date, and they know where they are at. Their fuel is designated – it's right there, along with any repairs that they have charged through the company.
There is no double entering of anything, and it is precise. Anybody can look at it and know how much money they ran for this month. It's just simple and they all love it.
Do the equipment revenue reports help you manage your business?
Glenn: Axon has simplified the whole thing because on any given day I can see what the trucks are doing, what the revenue is, and I have a final number.
Since we got the inventory and work order programs, I can go, and I can see what any particular trailer is costing me in any month or year.
You try to run the equipment as long as you can, but it gets to a point where the equipment is costing you too much money to maintain. It becomes time to upgrade and move on, and it has just made it so much simpler to track what each individual trailer costs me on any given day.
Can you tell us more about how Axon Software helps with inventory and work orders?
Glenn: It has made it so much easier to keep track of inventory and the amount of parts we have on hand on any given day.
After we had it for a while, we started to see that there is inventory that we haven't used in 10 months. Why am I stocking it? Why am I having that cost sitting on my shelf when it might as well go back, and we can just pick it up when we need it. Axon has helped me sort it out.
I don't have to go and physically sit in the parts room to figure out what has and what hasn't been used. Zoe can print me off a report and tell me what is being used on a day-to-day basis.
Has Axon Software improved the productivity in your office?
Zoe: Yes, Axon has increased everybody's productivity. When invoices come in, it's not a three-day process anymore, checking through dispatch, then going to reception who is doing all the invoicing. Now they come in, the receptionist grabs them, it's there, it's done.
Everybody moves fast and the faster you bill, the faster you collect your money. It has just simplified everything. The receivables are almost down to nothing – less than 60 days – because everything gets billed out so fast.
It has streamlined everything and we're not touching that piece of paper six times. We are only touching it once.
Receivables are the important part, because you've got to collect your money.
Axon is constantly up to date. When I print off a receivables list, I bring it up on the computer. I just click on it and it brings me all those invoices. I can phone the customer and give them the invoice numbers. I'm not searching through different screens – it's all there and it constantly flows through. It flags it.
Our receivables are much easier to collect.
Glenn: I think there is even more to it than that. When we got Axon in May of '03, we were a 20-truck company and we are now a 50-truck company with no increase in office staff. None whatsoever.
We can probably go quite a bit further yet without increasing staff in the office, just simply because the program is so user-friendly, simple, and time-saving.
How much money is Axon Software saving you with not having to hire additional staff?
Zoe: Half a million a year, probably – at least. Going from 20 trucks to 50 trucks and not increasing staff….It's probably around $400,000 a year that we are saving on wages.
Are you making use of the integrations, such as fuel downloads?
Glenn: It used to be a two-day job for one person just to enter the fuel to all the operators. Now, with Axon, the minute she hits download, the card number goes to whichever specific operator it is and it's just done.
Zoe: Going from 20 trucks to 50 trucks, the fuel integration has probably saved us one full-time person, just doing fuel and entering fuel. Axon has designed the download, so it flows right through. Nobody is physically entering that fuel anymore.
Do you find Axon Software easy to use?
Zoe: The ease of use really came into play this week. It's flu season, and we have three people out of the office. I'm licensing, insurance, and WCB. Because someone is gone, I am doing invoicing, which I only do about three times a year. I just step in and do it, and it is simple, because you don't forget how to do it.
Our son came in today. He is in dispatch and he had a crash course. He just walks through Axon like it was yesterday and has no problem sliding in the chair and helping. It's very, very simple.
If one of your peers in the industry asked you about Axon Software, how would you describe your experience?
Glenn: It is very good, right from the day that it was implemented, from the training, and ease of operation. The money that it has saved me….I have promoted it to some other companies that I know and they are using Axon now.
I am really happy with the program, I am really happy with the support, and I highly recommend anybody to at least look at the program because you will not be disappointed.
Zoe: You can expand your business and not have to change around the staff because more trucks don't make more work. It is such a simple system.
When we have recommended it to people, at first they say, 'Are you sure?' Then they got it and went, 'Why didn't I buy this 10 years ago?' It has just saved them hours and hours and hours of work.