WE DOUBLED OUR FLEET & REDUCED ADMIN COST BY $80,000 A YEAR
"We have so much paperwork from the United States with the BOLs, the customs papers, and all of those things. Because of the ability to attach all of these documents to our orders, we can pull up any order that a customer needs if they call with a question on anything."
Donna McQuaid
Finance Manager
Liquids In Motion Ltd.
Millet, AB T0C 1Z0, Canada
FREE BOOK – "HOW WE TRIPLED OUR FLEET SIZE WITHOUT ADDING ANY OFFICE STAFF"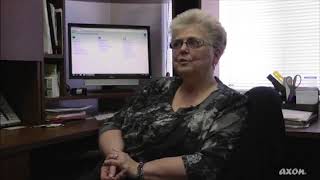 We haul bulk chemicals and hazardous goods across Canada and from the United States to Canada.
I'm Donna McQuaid, Finance Manager with Liquids in Motion, based out of Leduc, Alberta.
Helpful Features
We have a driver confirmation sheet that each of the drivers get with what the dispatchers are doing for that day. The owner operators or independents get an equipment statement that comes out every month, and it is so detailed that they're able to take that directly to their accountant and get their year ends done. All without any problem whatsoever.
[Along with the regular reports] I've created many custom reports that help me to extract information like hours of operation, how many trucks, and lists of drivers.
The fact that the financial statements are set up and ready to go for you is great. It gives you a trial balance; it gives you a financial statement; and it gives you a 12-month financial statement that gives you a running total over periods of time. Those are important factors that are pluses with the system.
Savings & Company Growth
Since we've had Axon, we have doubled our number of drivers and independents and we've been able to reduce our administration staff by two, which is half. Because of Axon, we have been able to save approximately $80,000 a year by reducing our staff by two.
Improvements to Customer Service
We have so much paperwork from the United States with the BOLs, the customs papers, and all of those things. Because of the ability to attach all of these documents to our orders, we can pull up any order that a customer needs if they call with a question on anything. We can pull it right up and say, 'Well, here's the paperwork. We can send you a copy in minutes.' They have all the paperwork themselves, but if something has gone wrong with their side of things, we've got the backup.