AXON INVOICING HAS MADE OUR LIFE EASIER
"With Axon, we have been able to maintain our productivity, even with 1 less staff member… Axon has made our life easier with invoicing, especially with our flatbed industry. We can invoice out the very next day. Very use friendly."
Amber Connard
Controller
Long Run Trucking Inc.
Crab Orchard, WV 25827, USA
FREE BOOK – "HOW WE TRIPLED OUR FLEET SIZE WITHOUT ADDING ANY OFFICE STAFF"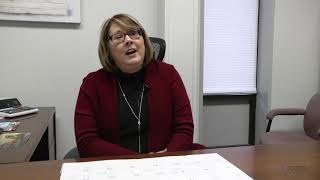 If you know where you are now, you can make better decisions about where you should be headed. That's why Long Run Transportation has been using Axon – specialized trucking industry software – to accurately track their business.
We spoke with Amber to learn more about their "increased productivity" and "precise reports."
I'm Amber Connard, Controller at Long Run Trucking of Crab Orchard, WV.
I'm Amber Connard, controller of Long Run Transportation from Beckley, West Virginia. We do coal and flatbed hauling.
We have two owners who have been in the coal-hauling business for over 30 years. We have several coal hauls that we do, and about two years ago they got into the flatbed industry.
The company started using Axon in July of 2017.
What has your experience been with Axon?
Being new, I did not get the initial training that the staff got when they started using Axon. However, it has been very user-friendly.
The Help guides are very useful. Support has been useful, as well as my co-workers, to train in using Axon Software.
What kinds of problems is Axon helping with?
It helps us break down the expenses per truck. It's very hard to find software that can do that as we look at it on a very specific level per truck. Axon does break that down very nicely for us.
We find it very useful, especially for our president. He reviews it in detail to see how each truck is running and requests invoices when he sees the detail on those reports. He can review the details and see specifically what has occurred with that truck.
How do drivers like their settlements?
I have heard no complaints. Some drivers know every ton that they should be paid for and some do not. It provides a good balance to make sure they're getting paid for every haul they are owed.
How is invoicing using Axon?
Axon has made our life easier with invoicing, especially with our flatbeds. We can invoice out the very next day.
It's very user-friendly. The invoice from Axon is the way we would like it, and we get very few questions back from customers because it's so concise and provides the information they need.
Has Axon improved productivity in the office?
Very much so. For example, we previously keyed in every ticket from our coal haulers. You know, that could be 8 to 10 tickets per hauler, per day. We have over 50 haulers. Now we can import those tickets.
It has reduced our manual entry and reduced the risk of errors for mis-keying something. So it has dramatically increased our productivity.
We are actually working with less staff. In today's environment, you try to do more with less – to be cost-effective. We are actually down a staff member and did not replace them because of the improvements that Axon has been able to provide us.
We've maintained the same fleet but were able to reduce a staff member.
If you added 10 trucks, would you be able to handle it?
I think we could, based on the features we have. We split duties, so we each handle different tasks. I believe we could handle that, no problem.
I do believe we would be able to maintain the workload without adding additional staff members.
Has Axon helped you manage multiple locations?
Oh, absolutely. Axon is very good. You know, I can run reports based on locations to see what those have done. It's very helpful in coal hauling to see which location is more productive or more profitable than some of the others.
Do you think Axon has paid for itself?
I'm sure it has paid for itself. Very quickly. Axon has increased our productivity and provided us with more precise reports than we were previously getting.
Has Axon helped you maintain or improve customer relationships?
It's very effective with our flatbed and coal hauling. Axon can produce timely invoices for them, so there is no delay in getting the invoices out to our vendors.
How do you find the support from Axon?
I'm a frequent caller to Axon Support. If I come across an issue I can't identify myself, I'm able to reach out to them. Someone is able to get right back to me and help get me on the right track for what I need.
I was a QuickBooks user previously. It was very difficult, because sometimes you got someone that spoke a different language. It was much harder to communicate. Axon staff are very friendly and able to get back to you, timely.
I feel like I have worked my way through the system to where I am knowledgeable. There are things every day I am learning with the system, but if I have questions that the online Help can't answer in the Axon program, Support is my next call.
Between Axon and Quickbooks, what do you prefer?
I think for the type of industry we are in, Axon is hands-down the better program with the features and capability it has to break things down to the truck level. I know those were features that QuickBooks would never have been able to accomplish for us.
If somebody in your industry asked about Axon, what would you say?
I would say it's a wonderful program. Axon has been very good for our industry and our company. It helps us know what our expenses and profitability are.