CPA SAYS THIS IS THE BEST SYSTEM HE'S EVER SEEN
"My CPA joined me for an online demonstration before we bought the software. He specializes in trucking – has about 30 clients and they're all truckers. He said this was the best system that he'd seen… If you don't measure it, you can't manage it."
Jim Wood
President
Maverick Express Inc.
Battle Creek, MI 49015, USA
FREE BOOK – "HOW WE TRIPLED OUR FLEET SIZE WITHOUT ADDING ANY OFFICE STAFF"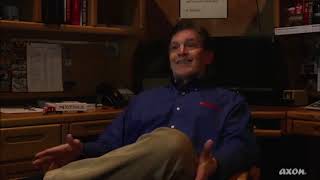 Maverick Express Inc, of Battle Creek, MI, operates roughly 40 power units along with a number of cargo vans and straight trucks hauling auto parts and other general commodities across most of North America since 1995. Maverick first moved up to Axon Software in October 2006. Jim Wood, President, spoke to us about their Axon Software experience.
My names Jim Wood, President of Maverick Express Inc. out of Battle Creek, MI.
Tell us about your experience with Axon Software.
A couple years or so prior to Axon, we had trucking software – I'll leave their name out to protect the innocent – but it was just not embraced at all by my staff. They didn't use it. We tended to go back to paper and pencil, as opposed to using the software, so that was a very expensive, failed experiment.
We are a hybrid carrier. We're not just a truckload carrier, or an LTL carrier, or a broker. With the exception of bulk, we do most things. We do LTL, expediting, dedicated cartage, and we've got a brokerage. We do a lot of things, and one size doesn't fit all.
So, in the interim we just used QuickBooks. It did fairly well for what we wanted to do, but from a trucking standpoint it was totally ineffective. There were no trucking reports germane to our business that I could pull that would tell me anything about what we were doing. And that's all changed with Axon.
Tell us about some specific issues that Axon Software has helped you solve.
Absolutely. We really had very archaic measuring systems before Axon. We would try to pull together information from numerous different sources, and it would take a long time to come up with any type of meaningful reports. Now we're able to accurately measure, for example, our cost per mile, our revenue per mile, our revenue per equipment, our fuel economy, our maintenance expense – we've been able to really get our arms around those things.
It's allowed us to accurately benchmark our performance with the rest of the industry and to more intelligently market and price our services. There's a much more scientific approach to the way we cost, and hence price new business, which has certainly impacted our profitability, no question about it.
Prior to Axon, we had such limited measuring devices; we were trying to go by instincts most of the time. Now there's really no guesswork. We know where we're at.
Has Axon Software helped with the productivity in your office?
Sure, it has. We lost one person through attrition, but the software is so efficient, when that person decided to leave, we didn't have to replace him because we had enough information at our fingertips that we could still function quite well without him.
When you include salary plus the personnel burden, we're probably saving $43,000 per year right there. You have to haul a lot of freight to make up for that amount of expense. Right now, we're doing very well, without that extra body, even though we've increased the size of our fleet from 30 to close to 40 power units.
Have your drivers or owner operators had problems with your settlement statements since you started with Axon Software?
Absolutely not. Both our company drivers and owner operators are very pleased with it because now they get the report along with their check, so if they've got any questions, they can typically see it right on the accompanying report. The drivers like it a lot.
Before Axon, in any given pay period, we might have four or five drivers questioning the accuracy of their pay. Sometimes they were right, and sometimes they weren't but now it's just the occasional question, and typically we can just go to the accompanying report, show them how to read it, and they're fine with that.
It's definitely helped improve our driver relations.
Has Axon Software helped you improve your client relationships?
Yes, it has. Our invoicing process is much easier now. In fact, our accounting person can now email the invoices to 75% of our customers. The customers like it because they don't have to go through mail; it's much quicker. So, we save transit time in the mail; we save postage; and everyone seems to be happier. We feel everybody wins in this case.
Another thing. Before Axon, if a customer needed proof of delivery or they had a question about a document they couldn't find, we would go to the archives out on the dock, hunting for the information. That took time and you were apt to get dirty; then you'd have to come back in and fax it. Sometimes we could do it that day, but other times we couldn't. It might be several days by the time the customer got the information they requested.
Now our accounting person scans all the pertinent information into Axon, and if you want any type of a document that we've scanned, she can pull it and either fax or email it right off the computer right to the customer. And that's certainly improved customer relations.
What would you tell a friend in the trucking business about Axon Software?
I would probably tell him to quit shopping and save himself some grief, and I would go so far as to say, 'When I get back to the office, I'll call Axon and have them call you.'
Save yourself the grief, because I have colleagues in the trucking industry that went with the other big software companies; those that you see that do a lot of advertising in some of the trade journals. And I've heard some of the horror stories. Most of them have caused a lot of grief; they were more expensive than originally quoted, sometimes by twice. The learning curve tends to be longer than what they originally sell; some of them require the staff to go on site with the software provider, literally for a week, to get trained and that can be very disruptive.
And that's one of the things about Axon – I thought it was going to be tough, but really it wasn't. It wasn't as scary as I thought it would be. I mean, it wasn't perfect; it wasn't without a learning curve. I mean it would be ridiculous to assume that. But I think in balance it went very well.
I would steer any colleague that I respected toward Axon and, as a matter of fact, I have.
What I do regret is, I wish I would have found Axon sooner, because our company was ten years old or so by the time we got on to Axon and if I were to have done anything differently, I would have got on with Axon even when I had one or two trucks and I didn't think I needed the software. I would have started right from day one and just grown with it. But you know what they say about hindsight."
Do you remember the moment when you said, 'I've got to move on this software, and I've got to do it now'?
Yes. My CPA and I were closing the financials on a particular month and I expressed some shock that the bottom line wasn't what I thought it would be. I thought, 'We're so busy; it's gotta be better than this.' He prodded me into a better system because he reminded me, as gently as he could, that we really couldn't even measure what we were doing.
So together we decided, hey, we've got to spend the money. And as a matter of fact, I even had him on an online demonstration before we bought the software, and he said that this was the best system that he'd seen. There was just no question. He wasn't trying to make a commercial for Axon. He said this is the best I've seen.
He specializes in trucking; he's got about 30 clients, and they're all truckers. When he's got approximately 30 other sources that he looks at on a monthly basis, and he said this is the best one, well, at that point in time, there's no decision. We have to do this. If you don't measure it, you can't manage it.
That is very, very true. Just for example, if you can't measure your fuel usage, how in the world can you manage it? You can't just say, 'I think we're getting better mileage because the guys aren't stopping nearly as often to fuel.' You can't manage that way.
I could tell you right now that the Axon software has allowed us to go from a fleet average of 6.5 miles per gallon to 7.4 miles per gallon. Between speed management, fuel additives, solar powered units, eliminating idling, and so forth, now we can actually see what we're doing and what kind of payoff it's been.
What would you say to another manager about buying and using Axon Software?
Don't wait. Don't wait – just do it. If you think you need a better system, you've already answered your question. You do need a better system. So, don't wait and don't let any perceived notions get in your way. Like 'We can't afford it right now.' Well, the truth is, you can't NOT afford it right now.
Would it be safe to say there are no regrets about investing in Axon Software?
None whatsoever. I ask that question from time to time of our users, and I never get anything less than a positive. Turn the question around: I think if I were to say right now, 'Okay staff, I'm going to purchase a different software system because I think I can get a better price or it has more bells and whistles,' I'd have a mutiny on my hands. That's how closely we're tied into the Axon world. This is how we do business now and no regrets.
The Axon people go the extra mile to cement the relationship with their customer, so why would you want to go anyplace else?