AXON SOFTWARE HAS STREAMLINED OUR INVOICING
"Everything is more streamlined and we don't miss any invoices, or any loads that are ready to invoice. We are not going to miss them anymore, because you can see right there that it's ready to invoice. All we have to do is just click, and that's it."
John Lupusor
Owner
MC Carrier LLC
Las Vegas, NV 89103, USA
FREE BOOK – "HOW WE TRIPLED OUR FLEET SIZE WITHOUT ADDING ANY OFFICE STAFF"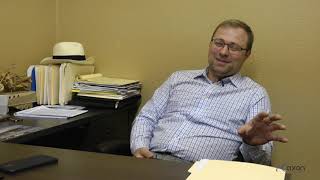 MC Carrier LLC is a successful Nevada-based transportation company that wanted better control over the information in their business. We met up with owner John Lupusor to hear what he had to say about the transition.
My name is John Lupusor, I am the Owner of MC Carrier LLC, we are based out of Las Vegas, Nevada.
Tell us about your company.
We operate in Las Vegas, Nevada doing over-the-road trucking and hazmat. Currently we are at 29 trucks, serving most of the west coast and then going over the road for all 48 states.
We wanted better control of orders coming in and out, making sure that everything is delivered, and everything is updated on time. Then at the same time to control the costs. Every owner operator has different charges that they have to pay, whether for plates or trailers, or whatever they have to pay for. Axon keeps us on track to make sure that they make those payments and those payments are applied to owner operator's account.
Have the reports helped you with your business?
It has only been two months or three months since we started, so I think right now it is very early to say. But you can actually see where you are making money and where you are not making money. Obviously that is always going to help. I don't have yet a larger picture to compare with what we did before, but it's an improvement, yes.
Have there been changes to working with your owner operators?
We used to forget a lot of charges. We wouldn't charge the owner operator for a couple of weeks and then when we charge him for three weeks at once, he is not too happy. Right now everything is going smoothly and it's good. I think it is better.
The owner operators are very happy with how the statement looks. It is very detailed and very self-explanatory, so they see everything that is coming in or going out, and they are happy about it.
I am not familiar with how fast the fuel downloads are, because I'm not doing those. What I do know is that now owner operators get charged for the charges they incur on the fuel cards – transaction fees and stuff like that are automatically in their statements. We don't miss any fuels. From this date to that date, he is going to have the fuel automatically in his statement, so it helps with controlling the costs.
Are drivers happy with how the settlements look?
The drivers are very happy. They see what loads they are getting paid for, from where to where, whatever the detention was, or layover, or whatever the case might be. Everything is detailed and there are no questions like 'Hey, did I get paid for that?' They see everything in the statement. If there are any questions, it's usually not about the payroll.
How is invoicing in Axon Software?
Everything is more streamlined and we don't miss any invoices, or any loads that are ready to invoice. We are not going to miss them anymore, because you can see right there that it's ready to invoice. All we have to do is just click, and that's it.
Is Axon Software making it easier for your staff to get their work done?
I believe that yes, it will be at some point. Right now we are still in that period where everybody is trying to get used to it, and actually from the beginning we had some people who did not really want to start using it. I had to get them using it, because I realized that everything is going to be better and much faster once they get used to it.
How is the training and the support that you are getting from Axon Software?
It's good. Every time that we called, they tried to answer the questions, and if they didn't know they would call us back with an answer.
Has Axon Software helped you with your customer service?
It helps, because I am able to make notes on every load. If there are any issues, we can go back any time to that load and see what actually happened. If we did something wrong, or maybe the customer did something wrong, I am going to be able to tell him, "Hey, we had this issue here because of this." Whatever the situation was, we are able to sort it out. There are never issues like, "Oh, remember that time we did that and that?" No, I have everything written down, and you can see everything.
If someone in the industry asked you about Axon Software, what would you say?
I would recommend it. I think it's a very good program to have, and it helps you control a lot of things in this industry. I have a lot of money coming in, a lot of money going out, and you have to keep track of that somehow.