SAVES US $100,000 A YEAR IN WAGES
"We were concerned that no system could fully support how we needed it to operate – but you always answered us, yes, our system can support that… We found that everything that you said Axon could support, it did, in fact, support. We are very pleased with the software."
Mike Schofield
Vice-President
O & I Transport Inc.
Dearborn, MI 48126, USA
FREE BOOK – "HOW WE TRIPLED OUR FLEET SIZE WITHOUT ADDING ANY OFFICE STAFF"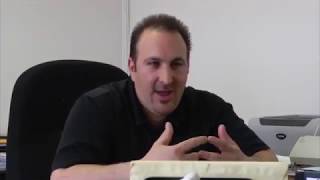 WOULD NEED 10 MORE PEOPLE TO DO WHAT AXON SOFTWARE DOES
"With the integration of Axon, I'm going to say we've probably managed to save in the tens of thousands of dollars in missed advances from our owner operators. It was a huge issue with missed advances."
Karen Peralta
Office & Accounting Manager
O & I Transport Inc.
Dearborn, MI 48126, USA
FREE BOOK – "HOW WE TRIPLED OUR FLEET SIZE WITHOUT ADDING ANY OFFICE STAFF"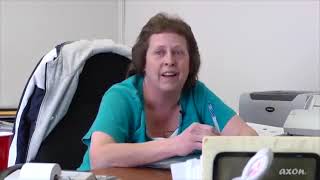 TRIPLED OUR FLEET WITH THE SAME OFFICE STAFF
"We went from 80 trucks to over 300 trucks and our office load has stayed the same."
Candace Ford
Operations Manager
O & I Transport Inc.
Dearborn, MI 48126, USA
FREE BOOK – "HOW WE TRIPLED OUR FLEET SIZE WITHOUT ADDING ANY OFFICE STAFF"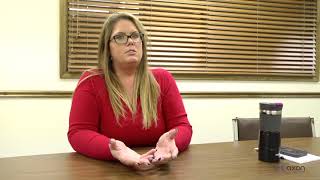 O & I Transport in Dearborn, Michigan, has been ramping up their business in a big way ever since switching to Axon Software in 2005. We recently caught up with Mike Schofield and Karen Peralta to get the scoop on what allowed them to increase their numbers by such a drastic amount.
My name is Mike Schofield. I'm Vice-President of O & I Transport Inc. We're a flatbed trucking company, providing service to the steel and machinery industry. We probably had about 125 pieces of equipment leased to us when we started with Axon Software.
What made you start searching for software back in 2005?
Karen: The company was getting much too large for all the manual paperwork that we had going on. It just wasn't feasible to try and manage a growing company with the programs that we had in place. We needed something that would allow us to migrate everything together within the company.
Mike: When Karen and I were looking at different management software programs, most of the programs we found were geared towards asset-based carriers, whereas we own no trucks.
We're completely owner operator-based and, as we were looking at different applications, we always had concerns whether the programs we were looking at could support our type of business.
When we were talking to Axon, we kept throwing out questions – we were concerned that no system could fully support how we needed it to operate – but you always answered us, yes, our system can support that.
We found that everything that you said Axon could support, it did, in fact, support. We are very pleased with the software.
What were you doing before you had Axon Software?
Karen: I was doing everything manually. We actually had a gentleman that designed a billing program for O & I Transport, but there was no integration to financial, payroll, nothing. It was strictly billing receivables, so even as we were billing through that system, I still had to manually do financial information, manually posting general ledgers and things like that.
Karen: In about 2001, we ended up with the QuickBooks® program and we ran the financial information through that, but once again we were still using one software for the billing and transportation needs and another for accounting. Axon brought that all together for us as one fully integrated system in 2005.
You were having trouble with missed advances, correct?
Karen: With the integration of Axon, I'm going to say we've probably managed to save in the tens of thousands of dollars in missed advances from our owner operators. It was a huge issue with missed advances.
Mike: [Each of O & I's 23 remote offices need to write advance checks to owner operators] Before, we would have a check and the check register, and it was very easy to manipulate the register. You could have someone who was cheating or stealing, and it would take weeks to get the statement from the bank and say, 'Where did these funds go?' By the time you check on it, there are tens of thousands of dollars missing. Lots of times, they were so clever hiding the money with advances and pay offs that it took us until year-end audits to figure out that they were even doing it.
With the Axon system, they can't write a fictitious check to somebody. We instantaneously know whether it's legitimate or non-legitimate. By the time we settle the truck with an equipment statement, we see how much we've paid them, how much we've billed, and it's a balance. Now we know right away.
Can you put it in terms of return on investment?
Mike: It's $100,000 per year just in wages that we've been able to save with the utilization of the Axon system. I think we eliminated three positions. It was mostly tedious copying and data entry. We also took some people from that area and put them into safety or human resources or recruiting.
We didn't have to have as many people in the billing and financial part of the business.
In addition to reducing our employment by three we've grown tremendously and with the efficiency of the system we haven't had to add any more people to support the growth.
If you had kept with the way you were doing it…?
Karen: I would be at home pulling my hair out. At a minimum, I am guessing we would need an additional ten people, easily, if we were trying to maintain the level of invoicing loads and trucks that we have now.
Mike: We couldn't have kept doing what we were doing. That's why we got in the market and looked for a program to support our growth.
I've talked to a lot of people in the industry, and we talk about their software compared to our software, and our software is hands down much better, much easier, and more user-friendly. It eliminates the errors.
When you have a lot of people doing calculator and hand calculations, it's very easy to make a mistake when you're busy, where with the Axon system there's no mistakes.
Has Axon Software helped you maintain or improve your customer relations?
Karen: The strong reporting enables us to look at information such as lane sizes, volumes, and where you've increased or decreased monthly. You can get back out there and contact that customer about what happened, 'This lane that we had, that's now down.' I think the Global reporter is phenomenal.
Mike: Well, the biggest thing with Axon is my agents can see which trucks are coming into their area and which trucks are delivering into their region, where previously we'd have to go by email or phone calls.
A lot of times the dispatcher in Cleveland, who is sending trucks to Gary, Indiana, or Jeffersonville, wouldn't have time to notify the agents in Jeffersonville or Gary that the truck is going to be delivering in their area.
With Axon, they can instantaneously see who is coming and secure him a load to get back because they know where the shipper wants to go. They can reload him without anybody making a phone call or email.
It's just efficiency. It helps with our efficiency tremendously.
What did your office staff think about the change?
Karen: They don't struggle as hard with their day-to-day jobs because of the functionality of the software. It's very user-friendly.
As far as us trying to train, it wasn't a huge ordeal since anything that helps them do their job more efficiently obviously makes them happy.
Mike: I haven't had any of our agents ever state that they don't care for it. They all say that it's very user-friendly and they have no problems utilizing it. Paying a driver, writing a check, it's easier within the Axon system. It's a lot less work.
What do you say to other companies that aren't using Axon Software?
Mike: I tell them how efficient Axon is and that they should really give it a chance and look at it. It's user-friendly and it helped our business.
When I talk to my competitors and friends in the industry, they always talk about the fact that they have a hard time getting their agents and their field people on board utilizing the system. I don't want to name specific software programs, but they use some of the other more well-known programs and they always tell me that their field agents have a hard time using them. They don't like it.
Karen: I would say I love it. I think it's the best thing that ever happened to O & I to be honest. We were kind of a mess trying to do all that stuff manually. It was really getting more and more difficult.
Michael and I pursued several other software companies, but we felt nothing was as user-friendly as Axon was.