THE CADILLAC OF TRUCKING SOFTWARE PROGRAMS
"This program is the Cadillac of all programs in the trucking industry…The reports help me determine if I'm selling the truck or not. Maybe it does just as well on fuel as the rest, it's paid for, and it's a money maker… Maintenance is huge."
Pat Tetrault
President
One Call Logistics Inc.
Blumenort, MB R0A 0C0, Canada
FREE BOOK – "HOW WE TRIPLED OUR FLEET SIZE WITHOUT ADDING ANY OFFICE STAFF"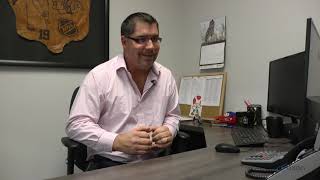 One Call Logistics is a relatively young company from Manitoba, Canada. Within the last 3 years, they've grown from 5 to 25 trucks – and things are running smoother than ever. We spoke with company president Pat Tetrault, to probe at some of the secrets behind their rapid growth and excellent organization in such a new business.
My name is Pat Tetrault with One Call Logistics, out of Blumenort, Manitoba.
Tell us about the company.
We run 53-foot dry vans, mostly from Midwest U.S.A. back to Western Canada. We do a lot of LTL and some truckloads. We have been at it now for close to four years. We believe in customer service and being honest with customers. It has helped us grow in this industry.
Can you tell us about your experience with Axon Software?
I have personally been in the industry for what seems to be forever, but it has been 17 years now. 17 years ago, I had no clue about trucking. Today I would think that I have some knowledge about the industry – it's a great industry and it's kind of love/hate. You love it, but also some days you hate it. Because of tools like Axon and some of the customers we have, you wake up in the morning and say, "Okay, it won't be that bad. We have a hill to climb, a mountain to climb, but we'll get it done. We'll figure out a way." That's my world of trucking.
We started Axon 3 years ago, when we were at 5 trucks. We are now at 25 trucks. Axon has helped us with our growing pains. The staff at Axon helped us train when we were smaller, to where we are today from doing full loads to LTL.
We had to figure out a lot of new things in these last 3 years, from growing new lanes to getting new customers. New customers mean new needs that they have, and solutions that we have to do. We've worked with our employees, with our drivers, and also teamed up with Axon – which is not just a computer program, it's also a culture of, "Hey, let's figure it out together."
We have an issue. This is our goal. How do we get there? We don't always have those answers. The fact that we could call and have somebody at the other end of the line who cares about it and wants to figure out the solution as bad as we do – it means the world to us. Hence, why we can grow from 5 to 25 trucks in a matter of 3 years.
Can you tell us some of the problems that Axon Software is helping you solve in your day-to-day?
Originally when we started, we weren't doing our own fuel tax. With the software, as long as we enter it properly and assign the loads properly, with the click of a button we can have our fuel tax all figured out quickly.
Running reports has been awesome. If we want to know what a truck or trailer has been costing us over the last couple of months or years, we can pull up a report. Click of a button. If we want to know how many miles a guy has been running, where they've been running to, or how many movements we've done for a certain customer. At the end of the day, as long as we can enter loads properly, it can basically bring up any report you want.
We love that about Axon – it's a tool that we use to bring up reports and figure out the industry. Which lanes we are going to, which lanes are paying more than others, with a click we can figure that out. That's one of the big challenges – to understand the industry. Having tools that let you understand it properly goes a long way.
Has it saved time, now that you are downloading fuel bills and doing your own fuel tax?
Before Axon, we had a guy go into PC*MILER and enter every city that truck has been to from point A to point B to Z, basically from the first of the month to the end. This guy would spend probably a day or two on just that. We were taking 2 days for 5 trucks. Today, as long as we entered the loads properly in the system, which we should, it's done in an hour and allows that person to do more things. It's a no-brainer. It's a great tool. As long as you understand the system, you let it work for you. Do it right, you'll get the right reports.
Do the drivers and owner operators like their statements and settlements?
That's a loaded question. Have you ever talked to a driver that is 100% always happy with everything? If you do, let me know and I'll hire him. That being said, no. We have low turnover. We've been around for 3 years now and kept probably 85% of the staff, with 15% leaving due to circumstances not necessarily due to trucking.
At the end of the day, the guys are happy because they get a monthly statement. They can match it up with what they've got. The transparency is there. They know that they're getting paid for the miles that they have endured and incurred. They feel comfortable knowing that they can go through their statements and the company is not hiding anything from them. If they have a question, or if something is missing, they can question us.
Occasionally, we didn't assign it properly in the system and so they didn't get paid, but at least they have a statement they can cross-reference with their own notes. At the end of the month they're getting paid what is owed to them. That's important in any industry, but especially in trucking – keep your drivers happy. One of the main reasons guys might leave is if payments aren't coming quick enough or if you keep messing around with their statements. So, we do our due diligence to make sure that their statements are as accurate as possible.
Has Axon Software changed the way you get your invoices out?
Invoicing in the trucking industry is huge. You could wait 15 days, 30 days, 45 days, 90 days, whatever. It's an industry that takes a while to get paid, so invoicing as quickly as possible is crucial.
We have guys down on the road scanning it in their PODs. We take that scan, we invoice it right away, and within minutes that scan is attached to the actual load in Axon, with the invoice. From Axon we can email the customer with their invoice and their POD. In other words, if you wanted to, you could almost invoice your customers within minutes of the delivery.
How important is the Equipment Revenue Report for you?
The Equipment Revenue Report is huge. If you've got a unit out there that's costing you on fuel or repairs, or if you've been spending a ton of money on a trailer that's 10 years old… maybe you get a report at the end of the month and this thing is worth around 15 grand, yet you're putting in 15 grand worth of repairs. The report helps you understand, hey, maybe it's time put this thing away, or sell it. Do something else.
With trucks, we look at their fuel consumption every month. Sometimes, if we have an issue with the truck, we look at it almost weekly, even as they're doing shipments. It's the biggest expense basically in this industry.
Having the ability to run a report off your fuel, almost instantly with your fuel bill and all that, is a huge tool for us. We can determine, "Is this truck making money for us or not?" Maybe we have a 10-year old truck costing us 10 cents a mile on fuel as opposed to my brand-new trucks. Well, is it worth it for us to sell this thing and get a new one? My cost at the end of the month is as much, if not more, due to the fuel cost. The reports help me determine if I'm selling the truck or not. Maybe it does just as well on fuel as the rest, it's paid for, and it's a money maker. Let me find another model of this truck, right? (But I doubt it). It helps to do reports on the trucks – maintenance is huge.
Has Axon Software helped you with maintaining or improving customer relations?
Well, customers always want stuff done now. Where is my POD, where is my invoice? Well, with the click of a mouse we can get that done right away. Typically, I have PODs attached to the load itself, so within literally 10 seconds, you can have a POD with an invoice sent to your customer.
Who doesn't want stuff done right away? If your customer wants it done and you get it done, then they are happy. Customers that are happy are coming back.
Do you and your staff find the software easy to use?
Anybody with some sort of computer skills can easily adapt to this software. It doesn't take a kid who has gone to university for 14 years to understand. It is user-friendly software. If they don't understand something, one quick phone call to Axon and they'll get you on track lickety-split.
It's a great, great company to deal with. They make the software very easy to deal with. My 10-year old daughter could use this software.
The training is terrific. Who likes change? Nobody does, but sometimes in the world of business you need to change. When we decided to get onboard with Axon, we adapted. The staff was friendly, knowledgeable, and had a "let's do it" attitude. There were no answers that finished with "No." It was always, "Good question, I don't know the answer to that one, but let me get back to you." And guess what… They would actually call you back.
When you call there, you actually get somebody that answers the phone and can actually talk to you and say, "Hey Pat. So and so is not here right now. They will call you back." Literally within 15-20 minutes, if that, you're getting a call back. At the end of the day, these guys are always there to help you.
If you didn't have Axon Software, would you need extra employees?
There is a reason we invest in programs like this, which is to make our lives easier. If I am spending half my day making sure loads are assigned properly and guys are getting paid properly, then I am not doing the stuff I should be doing.
When we were at 5 trucks, I could do almost everything manually, but there is no way I could run our division that same way now that we have 25. It would be impossible. It would be physically and mentally impossible to run it the way we were, without Axon. This program is the Cadillac of all programs in the trucking industry. With the growth that One Call has done in the last 3 years, it would have been impossible to grow that fast without software like Axon.
There was no way we could have done half the stuff we do today if it wasn't for Axon. I would probably have to hire 2 more people to do what the computer does for us today. This alleviates some pressure from my staff, because now that it's getting done properly, they don't have to spend 4 or 5 days doing fuel tax. They don't have to spend hours figuring out their collections list, the receivables. That's all done with the click of a button.
Now, instead of spending an hour and a half trying to figure out who owes us money – click of a button and we get it. Now she spends some time calling people to collect, and guess what… It only took her 2 hours. She has 6 more hours to do whatever else we need to do. Productivity is huge and Axon has allowed us to do other things with our time.
If you doubled your fleet from 25 to 50 trucks, what would staffing look like?
I would probably need a sales guy and a dispatcher, but when it comes to admin, one person would be sufficient to do all that needs to be done when it comes to admin work. One person could fulfil the admin obligations of our industry with Axon Software.
Do you feel Axon Software has paid for itself?
It's definitely an investment. At the end of the day, with the amount of money you'd be spending on staff to do what needs to be done, you are way further ahead with computer software like Axon. In terms of return on the initial investment in the Axon program, I would say that within 6 months to a year, we have that covered hands down. It has been terrific software and we enjoy it tremendously.
If somebody in the industry asked you about your experience with Axon Software, what would you say?
My experience with Axon has been nothing but terrific. It's a great company to deal with. Like I said, the staff is amazing to deal with, and they have a great attitude. It feels like a partnership. We say, "This is what we're up against, this is what we need, and I don't know how to get there." They make you feel like they're with you, ready to figure it out. Let's get it done.
To do it all over again? I would say yes.