THE TRAINING WAS FANTASTIC
"Axon has been great, right from the beginning with the training. We spent several weeks in training – we did a lot of online, over-the-phone training with some of your people up there and they were fantastic."
Gene Williams
Dispatcher
P & B Transportation Inc.
Apollo, PA 15613, USA
FREE BOOK – "HOW WE TRIPLED OUR FLEET SIZE WITHOUT ADDING ANY OFFICE STAFF"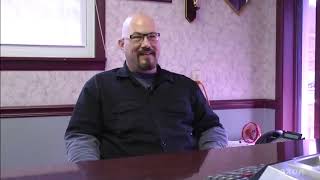 P & B Transportation Inc. was fed up with using antique, outdated software programs to run their company. It was time for a change. About 5 years ago they came across Axon Software and quickly realized they had finally found something that would work for them. We recently sat down with Gene Williams to hear about their Axon Software experience.
My name is Gene Williams and I am the dispatcher for P & B Transportation, located in Apollo, Pennsylvania.
Tell us about the company.
We do basic steel hauling, all kind of structural, steel coils – pretty much any kind of general flatbed hauling. We do some dump hauling and we have a few water trucks that are utilized in the gas well industry.
I think it was the end of 2009 that we put Axon Software into position.
Can you tell us about your experience with Axon Software?
It has been great, right from the beginning with the training. We spent several weeks in training – we did a lot of online, over-the-phone training with some of your people up there and they were fantastic.
They walked us through everything. Once we got our heads wrapped around the idea that we were working with a Windows-based program as opposed to the programs that we had before, it has really made everything a lot simpler.
From that day forward, the work has been a lot quicker. It's easier. We can duplicate loads and jobs in the blink of an eye.
We can go back through the system and say 'Okay, what was the name of this job we did before?' and 'Where was it?' and so on. We can recall it almost immediately.
The reporting factor is very helpful for that too. You can see how many times we've been to that job – all kinds of different features that have really helped us out and made things a lot easier here.
What kind of problems are you solving with Axon Software?
I know when I came on board here at this location in 2009, the programs that we were using were just very antiquated. We couldn't duplicate loads or jobs.
We do a lot of repetitive work – we'll do 75 loads of a particular run between two points over a four-day period, so we like to be able to bring that up, copy it, and be done.
With the old programs, it took a lot of time – probably a good 20 minutes to a half an hour to set up that group of loads. With the Axon system, I can do it myself in less than five minutes.
Less than five minutes and I have all those loads plugged in. I have the drivers' names on them. I have everything all set, and I can print their bills out almost immediately. All the while answering the phone, looking at my other screen, and working loads with that.
It is very simple, and I can see everything that I have going on. I couldn't do that with the old system. I would actually need to have a load ID number or job number to recall one of those jobs – to find out what the job was – Was it coils? Was it beams? Was it here? Was it there? I didn't know anything about it until I was able to find a number and recall it with that number.
With the Axon system, I can look at everything—from what is available to be dispatched to what has been dispatched, what has been delivered, what has been invoiced. I can recall all of that and put it right in front of my face at any given moment, so that has made it a lot easier.
How do you find the standard reports?
They are very useful. I can draw up how many times we have been to a certain location.
If I get a driver that may be a little disconcerted and complaining about his income and so on, I can draw up a report. We can look at what he has done week to week and over the past three years, if I want to.
Then I can go back to him and say, 'Hey man, this is what you did this week and you actually did better last week, and the week before that you did better than that. But you know, you took three draws at the beginning of the week,' – because a lot of guys will work and work and not realize what they're doing.
It's nice to be able to recall that stuff and be able to say to them, these are your actual real numbers here.
Have you grown at all since implementing Axon Software?
We have increased our fleet by about 25%. With that increased revenue, using our old program, we would have had to at least double our staff here to keep up with the invoicing and so on that goes along with that.
With the new Axon system, we were able to maintain our staff that we had at that time, in fact moving a couple people around to do different jobs and being more efficient with the people we have in the office.
I feel that if we were to increase our fleet, say by another 10 to 15 trucks, we could do so quite efficiently with the staff that we have now. We wouldn't have to increase any of that due to Axon's efficiency.
Has Axon Software helped your customer service?
I would say it has helped us in being more efficient. You get an invoice; you don't like the invoice; there's a mistake; and you are mad. People get upset about that.
Now this system has made things very clear cut. We can look at an invoice today; we can look at an invoice six months ago and compare – Is it the same? Is it more? Is it less? Is it correct? That has helped tremendously with the efficiency in here.
I can be on the phone talking to somebody while I'm inputting information into Axon, building loads, and putting things together. I can continue a conversation while clicking at the same time, and it's pretty much second nature now. It is just that easy to use.
Have you found Axon Software easy to use?
It is simple. I don't even know how to describe how simple it is. If you want to take a look at this load, you click on it and it opens up. If there are notes and things along with it, they pop up.
When we put a new customer in, we try to build everything that we need to know about that customer into the initial information.
When I'm dispatching a load for this particular customer, I get a pop-up that says our receiving hours are 7:00 am to 8:00 am – okay, now I know that. A driver asks and there you have it. Alternate contacts pop up – "Hey, call this guy if you can't get a hold of the main number.
Everything is there for me. It makes it real easy and it works the same with the drivers, and the equipment, and so on.
We can do a pop up for a particular outfit, truck, and trailer that we run: "Be careful, this outfit is particularly heavy so it can't scale any more than this weight.
I use the full dispatch screen. Our loads generally come in on an internet-based system from one of our customers that we are under contract with. I'll select 14 loads and 3 of them might be the same.
I have all those loads in front of me on one screen and I can take the information from there over to the Axon system, because I've already got all those points set up in Axon. It is just some clicks and I'm done. I'm set up.
If someone in the industry asked you about Axon Software, what would you say?
I would tell them it was the best thing we ever did. It is absolutely the best.
I know the problems that we had before with the old systems, I know the frustrations that we had in here, even just having those old systems communicate with the printer was a problem.
This new system is just fantastic. We can do anything we want with it. We can see whatever we want. We can make whatever we want – rate tables, additional charges, all the way down the line.
It's a fantastic system.