AXON SOFTWARE STREAMLINED OUR INVOICING
"We used to collect the invoice and take it to whoever booked the load. They would approve it and take it back and then take it over to payment. A lot of extra steps before [we had Axon]."
Keith Herlitzke
Co-Owner
Potato King Transportation Inc.
La Crosse, WI 54601, USA
FREE BOOK – "HOW WE TRIPLED OUR FLEET SIZE WITHOUT ADDING ANY OFFICE STAFF"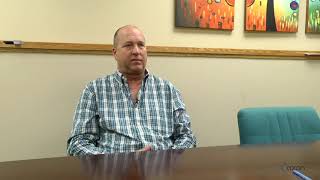 Potato King Transportation from Wisconsin has had a long and successful history, filling a niche in produce transportation. Lately, they have been adding trucks and growing their business without increasing staff costs. We sat down to speak with Keith, one of the owners, to find out how Potato King gets the most out of what they have.
I am Keith Herlitzke, one of the Owners of Potato King Transportation.
Tell us about your company.
We are a wholesale produce and transportation company located at La Crosse, Wisconsin. We do everything from grocery store deliveries to long-haul trucking.
My father started the company 55 years ago with just potatoes from the back of his car. Through the years we started adding more products and eventually we became a full-service produce company.
We were having logistic problems with inbound deliveries and the trucks weren't showing up on time, so we decided to do it ourselves. We control the product from the grower all the way to the grocery store. We started using Axon about 10 years ago.
How was the experience when you first started with Axon Software?
Very good. The service was very good, and the staff was very knowledgeable. My daughter tells me I'm technology challenged, but I did not have a problem finding my way through the system.
Going from a piece of paper to computer work was a big transition, but it worked well. It was a little bit frustrating, from the fact that we were used to just writing a name on a piece of paper. Now we enter more information to put an order in, but it all comes around on the backside when it comes to payables and other things. That work had to be done somewhere; it just wasn't the dispatcher doing it.
Has Axon Software solved any problems for you?
For me, stepping back and getting in the role of manager, I like to look in and see what's going on day to day. I come in in the morning, I look at exactly which customers took which loads, what they're billing, who is on them. For me, that way I can see, day to day, what is going on in the business all the time.
Has it been simpler to track your trucks and the expenses on trucks?
Once we put the orders in, everything is taken care of down the line when it comes to matching up the payment and everything. It's all there. It's all taken care of by the person that booked the order rather than doing it on paper.
Drivers like their settlements. It's printed out very nice, so there are no questions.
What about invoicing? Has that changed?
We used to collect the invoice and take it to whoever booked the load. They would approve it and take it back and then take it over to payment. A lot of extra steps before [we had Axon].
Has Axon Software helped with your customer relations?
Yes, because we can go back to any trip. We can find their load, when it was, where it was, and who drove it. If they call in with a question on a specific load, it's a lot easier to get to.
Do you think Axon has paid for itself?
I think in our situation, probably within a couple of years. We would probably have needed to hire one more person.
We have increased by about 30 trucks, and we have increased staff by one, but that was because of a different situation. We added one employee because of a specific customer. It was very regional based with 20-30 loads per day for this customer and about 6 trucks assigned to this, so he is in charge of it.
Other than that, we added no extra staff, and we put on about 24 more long-haul trucks. With the help of Axon, we did not increase our staff at all.