DOUBLING OUR OUTPUT WITH THE SAME STAFF
"When we got Axon, we were able to reduce our staff by one. Since then, we've more than doubled our ticket processing without adding more staff. Without Axon, we would need three more staff members."
Laura Beaulac
Owner
Predator Energy Services Inc.
Lloydminster, SK S9V 0P9, Canada
FREE BOOK – "HOW WE TRIPLED OUR FLEET SIZE WITHOUT ADDING ANY OFFICE STAFF"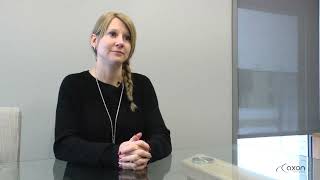 I'm Laura Beaulac, Owner of Predator Energy Services in Lloydminster, AB
My name is Laura Beaulac. I'm the owner of Predator Energy Services from Lloydminster, Alberta. We haul produce, water, and crude oil.
Predator started in 2011. I have actually been in the oil industry since 2007. I started dispatching and my husband is an owner operator. So, we decided to team up and here we are today.
We started using Axon in January 2014. We decided to use that program because, until then, everything was done manually. We built spreadsheets and it was a lot of work. The things we liked most about Axon were the ability to search tickets, the rate tables, and the accounting program that's in there. It's all broken down and easily identifiable.
How do you find Axon support?
The support system is absolutely phenomenal. There hasn't been anything they couldn't help us through. They took some of our old reports that we were trying to do manually and customized them. They were able to break down two different reports that we do with owner operator pay, and we can use that as a backcheck to balance, to make sure that everybody is getting paid.
Our customer sends us an Excel worksheet and Axon is able to interpret that and see where any issues are, whether it's to do with rates or with volumes, so that everybody is paid.
When it comes to Axon's customer service, there is probably no better company that we could ask for. They always seem to find us an answer or a workaround. They've managed to build custom reports for us that have made our jobs a hundred percent easier than they used to be. I know that every one of my staff is definitely happy with the service that we get.
The best thing about Axon is they always phone you back. They'll let you know if it's something they can fix or if it has to be corrected by a programmer.
They're very good with their updates. I like that whenever they do an update, a button shows up with red lettering where you can see what's new. If you go in and read the notes, they tell you about all the changes that they've made. They don't do upgrades during the day but in the evening when most people are done for the day.
How does Axon's customer service compare with other software vendors?
When it comes to support, with other software providers we pay a large amount of money for any changes that are made. With Axon, they're able to accommodate us without having to pay more because everything is already included in the price that we pay. It's best to know up front instead of all the extra bills or charges that we could have going forward.
Monthly fees haven't changed in seven years. They've been consistent and the same, so we're grateful for that. We know exactly what our bill is going to be every month unless we add a different application, but those are things we budget for.
Has Axon changed the way you do driver pay?
In the past, before Axon changed our lives, we were doing everything through copy and paste on an Excel spreadsheet. So, you would have three different tabs of an Excel spreadsheet open, and you would have to copy information and hope that you got it on the right line for that lease operator. Today, we simply put the lease operator's name and unit number in there and we run a report.
We run a custom report that we can sort by ticket or by date. We have made it so that tickets are run by number. Lease operators are able to put their tickets in order and reconcile their own statements.
Are you invoicing more quickly or accurately?
With invoicing, our customer gets exactly what they need to see – comments, rates, cubic metres – it shows everything. It's nice to have the flexibility to put on the invoice whatever we want for the customer.
We're able to send out invoices quicker because we're not spending all this time trying to recreate a new invoice that was supposed to be sent.
We literally click a button, tell it what we want, and send it out. Our month-end is three and a half days into the next month, so we can invoice on the 5th to the 15th day of the month, whereas before it would take until the 20th or 25th of the month.
With regard to receivables, we are able to process the invoices much faster. Once an invoice is submitted with all the documentation, our net terms end up being shorter because we've invoiced it sooner. Turnaround time on a net 45 or a net 60 starts as soon as we've put it in.
Do you feel you've gotten a good return on your investment in Axon?
I would say Axon was probably one of the best investments that we made off the hop. Once we got everything up and running, everybody was paid, everybody was able to look after their stuff and reconcile everything.
Has your company grown since starting with Axon?
When we started with Axon, we had 12 units. Now we have about 20.
The thing is, we've got fewer lease operators and more drivers. Back then we would've had maybe 20 drivers. We've got lease operators with multiple units. For example, my husband has five trucks here. Those five trucks might have 15 drivers. They can run 24 hours. They can run 30 days. So, driver-wise we've doubled. Our business has doubled. We're over 60 drivers today. I would say we used to be around 4,000 tickets a month. Today we're probably closer to 10,000.
When we got Axon, we were able to reduce our staff by one. We've now more than doubled our ticket processing and haven't had to bring in any more staff, which would've accounted for three more staff members.
We have a digital ticketing system and we are able to download tickets and import them into Axon. This was set up through the support group at Axon. That allowed us to get rid of the data entry position, and we are more efficient having one person go through everything and know what's going on versus so many people in the mix.