DOUBLED OUR FLEET WITH AXON SOFTWARE
"We were using three separate programs before to do the same thing we are now doing with Axon… It's a one-step process as opposed to the four or five steps we were doing before."
Kathleen Browne
CFO
R.B. High Tech Transportation Inc.
Newark, CA 94560, USA
FREE BOOK – "HOW WE TRIPLED OUR FLEET SIZE WITHOUT ADDING ANY OFFICE STAFF"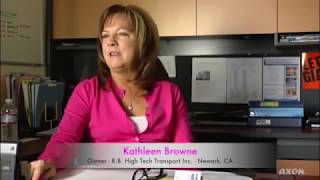 AXON SOFTWARE HAS ELIMINATED BILLING MISTAKES
"It's just been a pleasure to work with Axon. The Axon Software system, the program itself, is very user friendly. If you make a mistake, there are ways to go and change it…We don't miss a thing now, billing mistakes have all but been eliminated."
Craig Browne
Owner
R.B. High Tech Transportation Inc.
Newark, CA 94560, USA
FREE BOOK – "HOW WE TRIPLED OUR FLEET SIZE WITHOUT ADDING ANY OFFICE STAFF"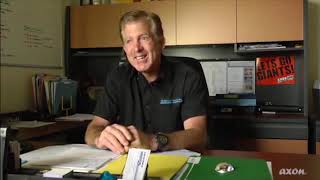 Craig Browne, Owner of R.B. High Tech Transport Inc. in Newark, California discusses the benefits they've seen since starting to use the Axon Software program. Craig talks about how billing errors have been all but eliminated and how the ability to attach photos to an order has helped them avoid damage claims, months after the load has been delivered.
My name is Craig Browne, Owner of R.B. High Tech Transportation Inc.
Tell us about your company.
I started in 1984 with just one truck, working as an owner operator. In 1992, I went on and started my own company then known as R.B. Air Transport, hauling primarily high-end electronics throughout the US and Canada. In 2000, we changed the name to R.B. High Tech Transportation. We've expanded the business; we do line haul and local work for the San Francisco Bay area. We've also moved into medical equipment and fine arts. We move artwork all over the country for the Smithsonian, the Metropolitan Museum, the Whitney Museum, the Brooklyn Museum.
Tell us about your experience with Axon Software.
Oh, absolutely wonderful. It's been truly amazing for us because if we've any questions, or we've had any changes that we've needed made in the program to make it fit, everybody's just been extremely helpful.
And it's just been a pleasure to work with Axon. The Axon Software system, the program itself, is very user friendly. If you make a mistake, there are ways to go and change it, it's not there forever. And that's the problem we had with the other program that we were using — there just wasn't any way to correct a mistake.
How has Axon Software helped you solve some of your problems?
We were using three separate programs before to do the same thing we are now doing with Axon. We had a program that we wrote our bills on. Once we actually printed a bill and went on to print the next bill, [the first bill] was no longer visible in the system. It would just go away. And then you print the next bill, and that one would go away, and you'd never see it again. So, any of the information that you typed on that bill, once you printed it and left, it was gone.
When the drivers would take their bills out, make their deliveries, come back, we would rate them. I would go into a separate accounting program and invoice. So, all that information that we had printed on the bill, I had to go back and put it in the invoice. And re-enter all that information again. Craig would then take all of the bill ratings and he would sit down, and he would re-enter all that information again into a separate program that he had for his settlements. So, we would enter everything three or four times in order to get the final result.
And then, if we hired additional outside labor to help our drivers – a forklift or extra equipment or something like that – we would have to try and remember to charge that against that particular bill. With Axon, the information's already there. So, we already know that has to come off the bill before we pay the drivers.
It's a one-step process as opposed to the four or five steps we were doing before.
How has Axon Software helped improve your office productivity?
The whole thing has flown so much smoother that it is giving me more time to do other things that I have to take care of. We've been able to be more productive. And it's all because of Axon transportation software.
Any idea what your annual return on investment might be using the Axon Software system over the past couple of years?
I couldn't really tell you from a monetary perspective, but from a frustration level, for me, it's huge. I would say in time alone it's gotta be way up there. And for Craig, it's just been so much easier.
Has working with Axon Software helped you to maintain or improve your customer relations?
Oh yeah. Right in the program, we're able to fax them reports or bill ratings or confirmation pages. That type of thing. I can go in and receive a fax and an invoice right from the system. Or email it — we do that a lot. We email their statements – it's easier too – before, we'd print them out.
Do you use the document imaging portion of the software?
I do. I really like it because, you know, we were able to actually put it right in with the order so you could go in there and take a look at it, and it was really good. And a couple of times we had orders we'd picked up at the airport that had damage when we picked them up and so the guys took pictures. We were able to scan those pictures and put them right into that order so when you pulled up the order, the scanned pictures were right there. And that was really nice.
How would you compare the support you've received from Axon Software with other vendors?
Oh, it doesn't compare. We used to use Peachtree, (and I used it for probably 27 years), and I've never had the support with Peachtree that I have with Axon. You know, I actually wound up hiring an outside computer person one time and taught her the Peachtree program so that she could try to help me figure out the problems we were having. Because Peachtree couldn't, so in that respect, it's been great. If I come up with a question and somebody in your support group doesn't have an answer right away, they say, 'I don't know. I'll get right back to you.' And they do. They come back with answers. And they take it to the programmers, so the access that your support group lets us have to your programs is amazing.
Give us a bit of feedback on the training.
That was great. To be actually able to work on our computer with you at the same time, that was really great. That's something we didn't have with the other programs. Of course, that made the training a lot easier. You were able to ask questions. And each person in the office was able to take their own training time, which was really nice. They already had their own questions to ask, and then together we were able to help each other out. It was very good.
If one of your peers in the industry asked you about Axon Software, how would you describe it?
We've told a lot of our peers about the Axon Transportation Software system. I just don't see a better program out there. We looked and looked and looked before we decided on Axon. And one of the reasons that we actually chose Axon is because you were accessible, you know, a lot of the programs we were looking at, they weren't accessible. You couldn't get them on the phone to talk to them, to ask them questions, that type of thing. And that's the biggest thing that I tell people in the industry, If you're looking for a program, this is it, because they are accessible.
What would you say is the biggest issue your business faces on a daily basis?
Keeping trucks moving (laugh). Keeping the trucks moving, that's the biggest. But Axon gives us more time to do that, to look for freight and that type of thing. It's freed us up to do that, and that's made a big difference.