SAVED US $140,000 A YEAR IN SALARIES
"I genuinely believe I'd have to add at least 2 more people. Talking about salary and benefits, in this marketplace I'd say somewhere around $65-75,000 a head. So that's about $140,000 saved per year."
Alicia Lingenfelser
President & Co-Owner
Redbird Trucking
San Marcus, TX 78667, USA
FREE BOOK – "HOW WE TRIPLED OUR FLEET SIZE WITHOUT ADDING ANY OFFICE STAFF"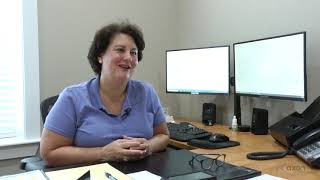 Redbird Trucking is a pneumatic trucking company located in central Texas. While growing steadily in revenue and number of trucks over the last 6 years, they have not needed to add many office staff. President Alicia explained that they attribute a lot of their efficiency to Axon Software. Here is their story.
I am Alicia Lingenfelser, President and one of the Owners of Redbird Trucking, along with two partners, Stephanie and Brad.
Tell us about your company.
We're located in San Marcus, Texas. We are a pneumatic trucking company that transports cement and fly ash to all the ready-mix players in the Texas market. We pretty much handle from Fort Worth, all the way down to the coast, and all the way out as far as the border with New Mexico.
The way we got started is a weird story. My partner Stephanie and I both came from a finance background. I was in institutional money with Fidelity investments, and she invested money in commercial real estate for high net worth Texas families. And the two of us, in our own portfolio, had decided to invest in a small ready-mix company in central Texas.
We get to our early forties and we think, we're really ready to do something on our own. We want to retire from corporate America. We both spent most of our life on a plane, travelling. We go down and meet with our ready-mix company and say, "If you guys could do it all over again, what would you do?" They said, "We'd start a pneumatic trucking company.
So these two women, with no background in trucking, decide to start a trucking company. We spent about 6 months doing our research and homework, trying to understand the market. Where was the best place to put the company? Central Texas seemed like the best place, primarily because the three largest cement plants in the state are located right here, just outside of San Marcus and in New Braunfels which is super close.
We started the company with 5 trucks and then we got to 8. We thought we wouldn't be any bigger than 8 trucks. We just wanted to do a kind of small venture. The next thing we knew, we were at 12, and now we're at 40 units, 6 years later. It's been an interesting ride.
We built a facility, bought land, did things to stabilize the company, and it's been fun. My favorite joke in the industry right now is this: A little boy asked his father, "Hey dad, if you're in trucking can you become a millionaire?" and the father says, "Yes son… If you're a billionaire." We've learned that lesson.
When did you first start using Axon Software?
When we started in 2012, one of the first thing we did was develop a small invoicing system on QuickBooks, and very quickly I realized if we were going to get a little bigger, QuickBooks wasn't necessarily the right platform. It was a little too many manual entries. We started looking at companies who had trucking software – we looked at a lot of companies.
We started saying, "Well these are platforms for UPS or FedEx, way different from what we'd ever need." Other platforms weren't near robust enough. Axon just seemed to be a perfect fit, not only for what we were doing, which was so specific, but for almost any trucking company.
Tell us about your experience with Axon Software.
What was nice is that both my partner Stephanie and I have a lot of technical background. We understood platforms. I really liked that, for us overall, it was a very intuitive and simple platform to use. It did not take much for us to get on board with how quickly we could use it. We've found benefits we weren't even aware of when we purchased it.
Has your business changed after moving from your previous software?
In QuickBooks, we weren't able to actually create the kind of driver statements and driver settlements that we wanted to. It wasn't set up to do it the way Axon is. That is one of my favorite features – I am able to quickly recap for my drivers, in a single statement, everything they did all week long. We only have a handful of owner-operators, but it even allows me to break out how we pay them. Their fuel is separated. That part of the Axon system is absolutely my favorite.
We are using equipment revenue reporting. We take a look at each truck, as it's on individual pay now. It gives us a chance to ask, "Why did a truck underperform over a particular period of time?" Maybe that truck was down for maintenance with a large issue and that's why the numbers look so bad. Or does that truck have an ongoing maintenance issue? Maybe we have a truck that is costing us more money to operate than if we just purchased a new truck? It really tells us the lifespan of our trucks in the whole scheme of things. Once we know a truck has gotten too expensive to maintain, we sell that truck and buy a new one.
Would you need more employees without Axon Software?
I think we would probably need two more people than we have now. I mean, basically two of us can do almost everything. And we still have capacity. That's the beautiful thing, is that it's a fairly simple platform to use. I have capacity, and rarely does an owner say, "I have capacity.
What was interesting for us is, we've gone from 8 trucks to 40 and have not had to add a single person on the back-office side. We have added 2 dispatchers and that's it, in-house. If we were to add another 20 trucks, I would still not have to add another person.
If we were still running QuickBooks, I genuinely believe I'd have to add at least 2 more people. Talking about salary and benefits, in this marketplace I'd say somewhere around $65-75,000 a head. So that's about $140,000 saved per year.
When I think about Axon, we have certainly gotten greater value than what we had to spend to purchase it. It absolutely has saved us money at the end of the day.
Has Axon Software helped you with your customer relations?
What's nice is, many of our competitors haven't adapted this kind of advanced technology. We're in the trucking business, so it's stressful for a lot of people to get on board with technology, but then they are unable to give the kind of reports to their customers that we can. I give my customers quarterly reporting based on their volume, at each and every location.
When my customers go to plan, say for 2019, I have already told them, "Based on 2018, here is what you have spent by location, to date, in trucking." They can then say, "Okay our growth was 20%, our trucking was an additional 20%, and we're expecting another 10% in growth, so trucking is probably going to be 30% in growth, and I can only say that because my trucking company told me how much I spent with them.
Being able to use Axon to quickly give that information to my customers is really nice.
If somebody in your industry asked about your experience with Axon Software, what would you say?
Actually, people ask me all the time. We have told a number of peers in our group about Axon, and now they're actually using Axon. A service line up in Dallas is already using Axon, and we have a group in Oklahoma that you need to reach out to. Yeah, we tell everybody about Axon.