DRIVER RETENTION IS PROBABLY THE BIGGEST THING
"Competition is pretty tough, but it all comes down to your service and your experience and that trickles down to your drivers, so you want to make sure your drivers stay with you. If they stay with you longer, usually they are the better and more experienced drivers who usually have fewer problems. Axon has made this experience better for the drivers"
P.J. O'Brien
Vice President
TCBX Trucking Inc.
Brainerd, MN 56401, USA
FREE BOOK – "HOW WE TRIPLED OUR FLEET SIZE WITHOUT ADDING ANY OFFICE STAFF"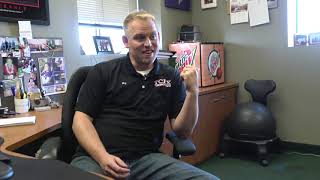 TCBX Trucking is over 100 years old, and over that period of time they have gone through many changes. In 2008, they upgraded their operations by investing in Axon Software. We recently sat down with Vice President P.J. O'Brien to learn more about their Axon Software experience over the last 10 years.
I am P.J. O'Brien, VP of Operations at TCBX Trucking. We are a family-owned and operated business out of Brainerd, MN.
Tell us about the company.
We run an LTL trucking service. 95% of our business is LTL. We operate about 25 trucks. A majority of the drivers are home every single night doing designated lanes. Another portion is truck load, which helps balance the LTL side.
We have been in business for a long time. We originally started out as Mueller Transfer in 1907. My grandpa teamed up with them, bought them out, and eventually it turned into Brainerd Express, which was incorporated in 1980 and became TCBX.
Back then, we used to have a paper mill in town. We were hauling all kinds of paper to the Milwaukee area and we were hauling beer back. We used to have a beer distribution back in the day. Then the paper mill closed, and we were losing our loads for the beer, so we sold off the beer distribution. Now we focus on LTL, which is very competitive, and we have been doing it for a while.
How has your experience been with Axon Software?
We started using Axon in the summer of 2008. I did a lot of research looking at different programs, and I felt that Axon was the best fit. It has saved us a lot of redundancy – we had a couple of different systems in place and we were able to take out all those systems and make it one.
I love the support and the staff. Everyone is really friendly. That was one of the things when I was doing my comparisons to other companies like Axon. I felt like the staff I was dealing with at Axon was by far the best. I got a good vibe from them and it seemed like they wanted to work with me to get done what we needed.
Axon was willing to go the extra mile to ensure that they had what we needed to make the deal work, and it was huge.
Since we were able to consolidate into one Axon system and we adapted the Axon process in our work flow, our customer service is so much better. Before, if someone called and they wanted a POD, I would literally have to find that in our old system, which was a Microsoft database. Then I would have to run downstairs, find out what the number was, go in and look up the file in the file cabinet, come back and say, 'Okay, so and so signed for it.' If they wanted a copy, I would either have to fax it to them or scan and email it to them.
Now, if somebody calls me and needs a POD, I can look it up here at my desk. I can tell them Joe Blow signed for it and, if they need, I can email or fax it right from my desk. The time it takes to service a customer is so much faster. It allows us to focus on other things and be more productive.
Do you make use of the equipment revenue reports?
When I look at the trips, it's nice to see what we have for revenue on there each day. I can pull it up and see what the revenue is on each truck before he goes out, when we're doing the orders.
You can see which lane is not getting enough or maybe I need to focus my sales more in certain areas. You can also tell how much freight you have on the truck. If the guy is empty every day, you know you have to get some work done over there.
Has Axon Software helped from a staffing standpoint?
Yes. We have grown our fleet and we have expanded our lanes. As far as the staff, I feel like we are accomplishing more with the same staff. We were probably doing 80 orders a day before, and now we are averaging maybe 115-120 per day. Sometimes more.
We were able to do that with the same staff, without an increase. I would say productivity has gone up [over 40%].
If we had this growth without Axon, I think I would have gone through a lot of employees just because of the stress level. It would have been hard to manage that aspect of it. If you look at things like training new staff, the growing pains of trying to grow somebody, Axon is extremely easy to pick up on. For someone new that comes in, it really doesn't take long to pick up the basics in Axon.
Has Axon Software helped with communication in the office?
Yes. Before Axon, our dispatcher had a legal pad and they wrote down if somebody called in for a pickup. The dispatcher then decided which truck was supposed to pick that up. He would write the driver's name to it, call the driver, make a note saying the driver knows about it, and then cross it off. If you needed to know who was picking something up, you always had to call the dispatcher to find out.
Now, with Axon, everyone sees the same thing in real time. It is so much better communication for everyone. Everyone is in the know really about what is going on at the same time. That is a huge point for Axon – the communication between everyone.
Has improved communication helped with your customer service?
Everyone being able to see what is going on is huge. If XYZ company calls me and says, 'Do you know if your driver is coming in today?' I can just look. I can see that the order has been dispatched and the driver knows about it. I can open it up, tell him that it is already picked up, and I can tell him exactly what time he picked it up without having to call anybody else.
It is all right there at my fingertips, and it's like that for everyone here. So, our customer support has really gone through the roof.
What is the biggest stress in your industry, and has Axon Software helped with it at all?
Driver retention is probably the biggest thing. Competition is pretty tough, but it all comes down to your service and your experience and that trickles down to your drivers, so you want to make sure your drivers stay with you. If they stay with you longer, usually they are the better and more experienced drivers who usually have fewer problems.
Axon has made the experience better for the drivers. Let's say you're a driver and you are in the building making a delivery. My dispatcher is trying to get a hold of you. Before Axon, he can't get a hold of you because your phone is in the truck or something. You get back in your truck and start heading to your next stop. Well, if the dispatcher was trying to tell you that there was another pickup just down the street – by the time he gets a hold of you, you're already 15 miles across town.
Now I can just send it to the truck. You get back in the truck and you can see that there is a new message. 'Oh! I have a pickup.' All the information is right there. So that experience for the driver has improved.
Axon has allowed me to extend the information that everyone has in my office to the truck. The driver can see it when they need to see it.
Have you ever discussed your experience with peers in your industry?
My experience has been great, and I like Axon. It's not easy making a change. Not everyone here at TCBX was computer savvy or comfortable in front of a work station – my dad being one of them. He was used to his way. I was trying to make him comfortable with learning Axon, and the support that I got from Axon was great. There was always a positive attitude, and they were able to walk me through situations.
I was talking with another carrier that we worked closely with, who also did a changeover but to a different system. It's not an easy task to swap out a system, but I felt like their pitfalls and hard times were worse than the headaches that I had. I could tell from comparing the experience that they had with what we had, our experience was way better.