AXON LETS US MAKE MONEY FASTER
"If I didn't have Axon, we'd have to more than double our office staff overhead... I can make money faster than a lot of people out there because Axon allows me to be on the cutting edge of providing information, invoicing, and tracking."
Dave Reynolds
Owner
Trevis Berry Transportation
Gilroy, CA 95020, USA
FREE BOOK – "HOW WE TRIPLED OUR FLEET SIZE WITHOUT ADDING ANY OFFICE STAFF"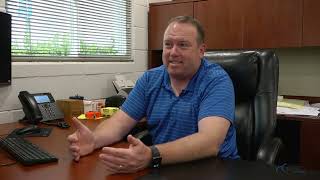 My name is Dave Reynolds. I'm the owner and president of Trevis Berry Transportation from Gilroy, California.
My name is Dave Reynolds. I'm the owner and president of Trevis Berry Transportation from Gilroy, California. We've been in business for over 82 years, hauling corrugated paper, egg products, wine, grapes, barrels, fruits, and vegetables all over California and the west.
My wife's grandfather was Trevis Berry. He started the company back in the late '30s with two other family members. My wife's father worked in the business his whole life. When my wife's brother passed away unexpectedly about six years ago, I left my career of 25 years in financial management and said, "Okay, somebody needs to take over this company or we need to sell it." So I came in, did the evaluation and said, "I think there's some good I can do."
Six years later, we've nearly doubled in size, and we are utilizing Axon Software to its fullest. We started using Axon about a year after I started, in 2017.
Can you tell us about your experience with the software?
Our experience has been great. We migrated from a DOS-based system that had been in place for about 20 or 30 years, and the automation with Axon has been amazing. It has allowed us to basically change the way we do our whole operation, from order entry and dispatching to invoicing, billing, and quoting.
Our operation had a full-sized copy machine with somebody spending all their time copying and mailing out invoices. We'd lose track of a lot of stuff.
Now, we email all our customers the invoices. We're paid faster and more accurately, and we can keep track of our whole operation, which has allowed us to grow.
How did you previously do your invoicing?
Everything was done on paper for the most part. It would be entered into a DOS system, and we would basically use the old green bar printers. Some of those green bar printouts were sent directly to customers. Sometimes, somebody would take those printouts, enter them into a Word or Excel document, and generate an invoice.
With Axon, everything is connected from the point of a bid going out, or an order going out, or a quote going through dispatching. We assign a driver or a piece of equipment to it. We click one button and send the invoice out electronically to the email that's attached to that customer's profile.
It has definitely cut down our billing work. It used to take almost a week and a half to bill the current week's work. So we were always behind. Now what used to take us a week and a half can be done in a day and a half.
Cash flow and tracking is much better. From my perspective as a finance guy – when I got here, there was no real way for me to track cash flow, outstanding invoices, receivables, or payables. Everything was done manually. It took me a lot of time to figure out where we were on any given day.
Now, using Axon, I use the executive briefing every day. I take a look and it kind of gives me the full scope of where we're at and where we're headed. I do a lot of customized reporting within Axon. If I want to see things a certain way, I can quickly click a couple of buttons. I create my own reports and utilize them to slice and dice the business daily.
How do drivers like their statements and other things you provide?
The drivers are happy that it's consistent and accurate. Not that we were doing anything that wasn't, but it was just such a long process with a lot of paperwork.
Now, they've got a one-page summary of their week and every aspect of the order. Oftentimes they have their own running sheets, just to make sure, and we don't ever have issues about them not getting credit or paid for loads.
We're also utilizing Axon for our whole payroll operation. In our old system, that was a whole person's job to take these green bar reports, print them out of the DOS system, and enter them in another system to manually generate checks for payroll. When you've got 15 drivers, another 5 or 6 employees, and this is the process, that's a whole person's full-time job.
Now, in Axon, the person that enters the order assigns the truck and the driver, puts in the hours, the pay, and it's done. Payroll is now basically more of a review than a whole person's job to enter it.
Has Axon changed the way you staff your office?
Axon has allowed me to utilize my people differently, and it has allowed me to grow my business. I mentioned that I started about five years ago, when we had 15 drivers. Now we have over 42 drivers and I haven't added any staff. I've been able to reutilize the people in the front office to manage the operation and really more than double our business.
If I hadn't picked Axon as the choice to grow with, we'd probably have had to more than double our overhead staff in the office. I know that realistically there was no way we could have grown, even if I added four or five more people. We wouldn't have had the ability to manage that much paper.
If we're trying to grow from 40, Axon certainly has the capacity. I have not hit any restrictions in size and processing speed. I might have to hire one more person just from the sheer volume of work we're doing. It's not a limitation from Axon but a limitation in human ability to process paperwork, orders, and all of that.
That's amazing! Great job. Would you say the software paid for itself?
I would say within the first year for sure. Both from a time standpoint and the efficiencies built into Axon, there is no question that it was paid for. Payroll, customer experience and invoices, accurately billing the fuel surcharge, to a host of other parts of our operation.
We even use the warehousing part of Axon. Inventory control, all of those pieces. Yeah, I'm sure within six months to a year, Axon paid for itself. No question.
Can you speak more about how Axon has helped you with customer experience?
Axon has really provided us with the opportunity to give our customers a professional experience, where what they receive is consistent.
Anytime there are questions, we can provide them with a deep layer of backup to support everything we're doing, because we scan everything inside the order now. Every piece of paper related to a transaction is scanned into the order for that customer.
They'll call us and say this or that, "Are you sure this is the right fuel surcharge?" Then we can email them very quickly and show, "Here's the contract with the fuel surcharge agreed upon. Here's the quote. Here's the order. Here's the bill of lading." With the click of three buttons, the customer has the email and it's all formatted for us.
Prior to Axon, we wouldn't have been able to provide that information to the customer. Or it would have taken us probably a week to sort through paper records and hope we had everything in a way that we could send it to them.
How is your experience with Axon training and support?
Axon's support and infrastructure for those things have been solid. For me, it was a new experience not having it be in-person. Five years ago, in the industry I came from, there was a lot of in-person training. So getting used to being online, I was super apprehensive to go and invest money, transition my systems, and rely on somebody somewhere else.
But between the support staff in the initial training and the ability at any time to reach out to support through the program, it has been amazing.
For any new hire that I've brought on, I shoot a note and say, "I have this guy starting. Let's line up some training." Axon is super responsive to setting up days and times, whatever works for us, to take them through a general introduction to Axon.
I work with Axon to build and outline training on specific modules that this user will have. We've had great success with new hires being able to use the system.
Do you find the software intuitive and easy to use?
Yeah. Axon Software is extremely intuitive. Depending on how you look at things, there are typically three or four different ways to get something. I can be in the trucking module and easily get over to the payroll module, three different ways linked to what I'm working on, and it's super intuitive.
If somebody in the industry asked what you thought of the software, what would you say?
I would say, in terms of my experience, investing in and utilizing Axon has probably been the single most important investment I've made.
In terms of transitioning a business that has been around and very successful for a really long time, a family-run business for 80 years, it really has transformed us into the modern era and given us the opportunity to outperform our competition.
I can make money faster than a lot of people out there because Axon allows me to be on the cutting edge of providing information, invoicing, and tracking.