WITHOUT AXON WE WOULD NEED 3 OR 4 MORE PEOPLE
"We've got about 100 trucks altogether. I'd say 30 of our trucks are pretty much local in the St. Louis area doing intermodal. We also run coast to coast doing vans, reefers, intermodal, and especially flat bed. We have been using Axon for seven or eight years now."
Pat Luehder
Accounting Manager
Twin Lake Trucking Ltd.
East Saint Louis, IL 62203, USA
FREE BOOK – "HOW WE TRIPLED OUR FLEET SIZE WITHOUT ADDING ANY OFFICE STAFF"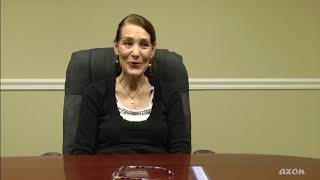 Fear of change is one of the biggest hurdles that holds many companies back from profitable growth. The folks at Twin Lake Trucking Ltd. from East Saint Louis, Illinois, were able to get past the fear of change in 2006. Since then they have had enormous success running five different companies on Axon Software. We caught up with Alan and Pat to hear about their previous seven years with Axon Software.
My name is Pat Luehder and I am the head of accounting staff here at Twin Lake Trucking, Bi-State Truck Repair, and the other three small companies that we house here.
Tell us about the company.
Alan: We've been in business for 43 years now, and we've got about 100 trucks altogether. I'd say 30 of our trucks are pretty much local in the St. Louis area doing intermodal. We also run coast to coast doing vans, reefers, intermodal, and especially flat bed. We have been using Axon for seven or eight years now.
Pat: We actually have five companies on the Axon system.
Tell us your experience in dealing with Axon Software.
Pat: I love the Axon people. They're always very helpful. I've never had a problem getting a hold of them or getting a question answered and, if they can't answer it right away, they will faithfully check on it and get back to me.
Nothing has ever really gone unsolved, and you don't have that advantage sometimes when you're working with other systems.
When you call Axon, you get a live person and they're dedicated – if they don't know, they are going to go to the next person until they find out. I'm very happy about that, and their response is prompt.
Alan: Axon is great for keeping track of everything as far as your organization. It's a great tool to go back and look for something. If there's something you need to find, there's always some way to find it.
Were there reservations about changing from your previous system to Axon Software?
Pat: It's always scary to change. You are used to something else and the familiarity is a little security blanket, but you don't realize until after that you weren't able to do near as much with your old ways.
Pat: It is a learning process. It took us a while to really get a feel for Axon and learn what all it can do. I'm sure there are still things in there that we haven't utilized, so as time goes on, we will be learning more.
The main thing is just the availability of almost anything that you want to do. If you call, there's never been the answer, 'Oh, no, it can't be done.' There's always a way it could be done. Nothing's been impossible so far.
The software we had before was very restrictive, couldn't be networked, and there were all kinds of things that didn't work with it. One time it crashed, and there was no backup.
In the trucking industry, there is a lot of paper – a lot of numbers, more than any other business. To lose a day could be catastrophic, because I'll forget by the end of the day what I did at the beginning of the day. You don't have to worry about that so much with Axon.
Are you taking advantage of the document imaging?
Pat: They certainly are downstairs – they scan everything into the orders. We do some scanning for contracts also, which is very good because some of those contracts might be four or five years old.
To go back in files and try to find them would be a little tedious sometimes, but with the scanning it's right there for you.
It's very time-saving. Before, I could waste hours looking for something, because with the trucking business you have to move things into storage at least every year. If you have to find something that is years old…We're talking hours to go back in storage, find the correct box, go through it, and pull it out.
Have you changed the way you do fuel tax?
Alan: Yes. Before we kept track of everything with paper and pencil in every truck. The guys don't have to do any of that anymore. Now everything is done right through Axon on the routing. It saves a couple of people from actually keeping track of all that stuff. Push a couple of buttons and you're pretty well done.
How do you do your driver settlements?
Alan: All the dispatchers have a [record] for every driver and they fill out what they do every week. At the end of the week, I go through these driver sheets, put the order numbers in, and verify the routing to make sure they're getting paid for everything they did. Other than that, it's very clean for the driver to see.
Everything is right there, spelled out on one piece of paper – any deductions, any stop pay, tarp pay, Hazmat pay, flat bed pay – it's all right there. [Axon] makes it a lot cleaner and easier to understand.
Has Axon Software saved you from needing more staff?
Pat: Definitely. Not only more staff but also many more computers, many more file cabinets, many more a lot of things!
Pat: If we hadn't converted to Axon and kept with the system that we previously had, I'm sure we would have needed three to four more people to take care of all the bookwork, the papers, and the filing, and everything.
This has worked out very well. And we would have run out of room too because we don't have that much room to put new people either!
If someone in the industry asks you about your experience with Axon Software, how would you respond?
Alan: Oh, I've always said good things about Axon and recommended them to anyone who's asked. I think it's been a pretty easy transition and a helpful tool.
The support is great. Any time we've got a problem or need anything explained to us, it's a click of a button and a phone call comes back. We have it resolved quickly.
Pat: I'd say I wholeheartedly recommend it. You don't get online assistance like that anywhere else. They stand behind the product. They're very knowledgeable and I have no problem calling, so it works out well.