TRIPLED OUR TICKET ENTRY WITH THE SAME STAFF
"Before Axon we could probably only process about 2 to 3 thousand tickets a week and now we're doing 6 to 7 thousand tickets a week. Axon has helped us triple the amount of tickets that we can process in a week's time with the same amount of staff."
Tamara Weaver
Office Manager
Weaver Aggregate Transportation Inc.
Sumterville, FL 33585, USA
FREE BOOK – "HOW WE TRIPLED OUR FLEET SIZE WITHOUT ADDING ANY OFFICE STAFF"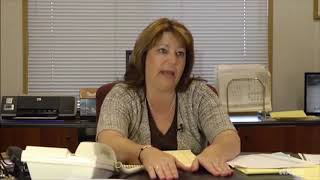 Weaver Aggregate Transportation Inc. of Sumterville, Florida, hauls limerock, dirt, fertilizer, salt, and mushrooms, primarily in central Florida. Office manager Tamara Weaver spoke to us about their Axon Software experience.
I'm Tamara Weaver, Office Manager with Weaver Aggregate Transportation Inc.
What made you start looking for operation and accounting software?
We were looking for something to replace our 'old school' DOS accounting and invoicing program. It was not easy to find something that could handle the kind of invoicing that we needed to do.
Everything is hauled by the load; we don't do anything by the mile like a lot of long-haul trucking companies do. We had a long-haul trucking company in Illinois, and we couldn't use the software that we used there, and there's just no way that QuickBooks or anything like that would work. We needed something that was a little more sophisticated.
Each of our drivers turns in about 10 tickets a day. If we're fully staffed, that's 900 tickets a day, five days a week. That's a lot of tickets to enter. We needed something for quick entry.
Every job is different. We charge by the ton, by the load, by the cubic yard, by the hour – it just depends on the customer. We needed something that could handle a very broad spectrum and was very versatile. With Axon we've been able to meet all of those needs.
Is your background in accounting or operations?
Actually, both. I've been in the trucking business for about 16 years, and I've worked both sides.
What is your experience in dealing with Axon Software?
It's been really great. Any time we've had a problem, they were able to answer our question – if not right then, I'd say within hours – so we were never left hanging; it never kept us from getting our work done. We always felt like we had them to help us any time we needed. And everything in the software is pretty self explanatory. You can find things on your own, but when there is a technical problem or when you don't understand something, there's always somebody right there who can help you.
Axon Software includes a fully-integrated accounting system. What would you say to somebody who is looking at Axon Software but is afraid to change accounting systems?
That was something that was very hard for us to get used to, because it is all integrated. Our accounting person was always afraid that somebody else was going to do something that was going to affect her financial statements. And so, it took her a while to trust the system.
But then she realized that you can put limits on what people can do in the system. People can't just go in and change the numbers. There are checks and balances, but she can still go in and make manual adjustments. And then she realized that she doesn't have as much grinding work to do. So of course, that helped her adjust to the change.
And you're not going 20 different places to look for information. It's all right there. You can backtrack and see where the figures came from. I think at first, she was afraid she wasn't going to be able to see where the figures came from, they were just going to be there; but that just isn't the case. Axon provides a very solid audit trail. She knows where the information came from and who put it there.
You're entering hundreds of tickets a day. Is that process easier now?
Of course, it is still grueling; I don't think there's any way to get around that part of it. But it's very easy to check your totals, to make sure they're correct. It's very easy to go back and make sure that they are entered correctly. We've had a lot of trouble with duplicate ticket numbers in the past, and Axon catches them for us. So that's very nice.
We still have the same number of tickets to enter, but it's easier to enter them, especially when they're the same type of ticket, because you can copy them, and you only have to change the truck number or the date.
That makes it very easy. It's much quicker, because you don't have to re-input all that information. We could have a stack of 200 tickets, but the only difference might be the truck number, and she can do those in two minutes, so that saves a lot of time.
Tell us about your owner operator statements.
They get a statement that shows every ticket they're getting paid for and how much their pay is for the ticket. It shows any deductions for insurance, fuel, and so on, and their net pay. And it also shows them their year-to-date totals. Before they were getting four different statements, and now they get just one. And everything is right there every week, so it's a lot easier for them to read.
At the end of the year I don't have to give them an Excel spreadsheet of their expenses because it's all right there. I say, just look at your last statement, it tells you everything. In past years I've had to do Excel spreadsheets of all their expenses for them, so now the year end is really nice.
How much time do you think you save using the Axon's dump truck software?
Hours and hours because our 1099s are all right there and all the amounts are right there. With the system we had before, I had to go through and add up their whole year's worth of checks from their check stubs, getting the amounts, manually putting it into a program that would print a 1099. I had to go through that for every driver and you might have hundreds throughout the year. You're adding up every check for all those drivers. With Axon, all you do is print it off because you know it's correct.
Completing the 1099s used to take almost a week to do. Now I do them in one morning, including checking all their addresses. That is awesome; that saved a lot of time.
If we didn't have Axon now, I think we would need another three staff – so it's saving us, I'd say, at least $75,000 a year.
Has Axon Software helped you with your invoicing process?
We enter the tickets, we spit the invoices out, and we put them in the mail. The invoices are very easy for our customers to read, and if you lose one you can reprint it. They're easy to look up; they're easy to trace.
Older, physical invoices are filed away so, if a customer has a question about one, a lot of times you can't get your hands on it. But with Axon you can pull it up very easily.
And the same with their statements – they can call any time with a question on what they owe, or somebody wants to do a credit check on them and wants to know how they pay, and it's easy to pull up their customer statement, or past invoices, or something. Just touch a couple buttons and you're right there, so it's very easy.
How would you describe your experience with Axon Software to someone in the dump truck industry?
I would definitely recommend it. I would tell them that it seems overwhelming at first, but that's before you start it. When you first think about what changing your entire software and setting it up is going to be like, you think, 'Oh my gosh there's no way!' But we sent Axon our data, and they pretty much loaded everything for us.
And, you know, it wasn't that bad! We were able to start using it and start invoicing that same week, and we really didn't have many problems switching over. Most of the problems we had were mental – you know, people problems – not functional problems.
I would just tell them that it's so versatile you can use it for pretty much anything, so I would definitely recommend it.
With Axon there are no problems with billing, or the accounting part of it, or the driver settlements with the type of work that we do at all. We're able to get everything accomplished that we need to.