AXON SOFTWARE HELPED US CONTROL OUR GROWTH FROM ZERO TO 100 TRUCKS
"When we started using Axon, we did not have any kind of a program whatsoever, so it was immediately a big help to us. By October, we were generating almost $500,000 a month in gross receipts without a trucking program… But Axon had everything we needed to get the company organized and thank goodness"
Billy White
Founder & General Manager
Hourglass Transport LLC
Coleman, OK 73432, USA
FREE BOOK – "HOW WE TRIPLED OUR FLEET SIZE WITHOUT ADDING ANY OFFICE STAFF"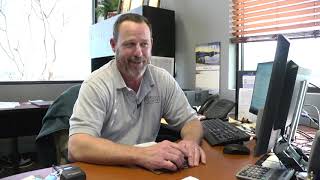 Founder & General Manager Billy White of Hourglass Transport, LLC of Coleman, Oklahoma runs mostly 1-ton dully trucks and ships horse trailers, cargo trailers and stack loads throughout the United States & Canada. Billy spoke to us about his Axon Software experience.
My name is Billy White, I am the Founder & General Manager of Hourglass Transport LLC, located in Coleman, OK.
Tell us about Hourglass Transport.
Hourglass Transport was founded in February of 2003, mainly for the purpose of transporting horse, camping, and cargo trailers. We use light- to medium-duty trucks, and we go throughout North America in all 48 states and Canada.
We originally started out with only two of us—myself and a safety director. We had no office equipment; we didn't have anything. But we had a desire, and we quickly grew to close to 100 owner operators within the first 10 months. I hired seven more office personnel within that 10-month frame.
We are headquartered in Coleman, Oklahoma, and I was able to open another terminal within 18 months of start up in Edwardsburg, Michigan.
Tell us about your experience with Axon Software.
In October of 2003, when we started using Axon, we did not have any kind of a program whatsoever, so it was immediately a big help to us. By October, we were generating almost $500,000 a month in gross receipts without a trucking program.
But Axon had everything we needed to get the company organized and thank goodness it wasn't overly complicated because we needed to learn it fast. I knew that it was very important for us to be up and running quickly.
It's been wonderful for us; it's simple, and we haven't had to make any changes since we've come on board. Everybody is friendly when we call and ask questions. And also, we appreciate the nice little gifts we get from Axon.
Many companies receive complaints from their drivers who don't understand their settlement statements. Has that been a problem for you?
That was a problem prior to Axon. After Axon, the statements are laid out very clearly for these guys, so we do not have any serious questions. Since Axon, it has not really been an issue.
Do you think this has helped your driver retention at all?
Oh, absolutely. It takes away the guessing game. If you can make sure the drivers are not confused about anything, they have more confidence in the company. And because drivers always seem to be looking for mistakes, the simple settlement statement is a big plus. It does help in retention, just the mere fact that there's a trust factor there.
Has Axon Software been helpful to your office staff?
Yes. Mainly it's just more time efficient. Everybody has access to most of the same information, at least as far as the basics of the trucking business. They're not allowed access to everything, but the important stuff, as far as dealing with the drivers and customers, they are. If someone steps out of the office and needs to be gone for a little while, someone else is there to answer their questions. It's just so time efficient.
If a driver or a customer has a question, they can call in and someone can answer right away, instead of having to say 'hey, you need to call back when this person makes it back from vacation' or back from wherever. Someone can access any information they need right there so there are not all the phone calls back and forth to sort out a problem. When it's just a simple question, we can answer it right away because the information is at our fingertips.
Has Axon Software helped you manage your accounts receivable?
Yes. Everything is tied to the order, so actually our accounts receivable is sitting at approximately 94% current, so there's something good about it. We're proud of that one.
Can you estimate your return on investment for what you paid for the Axon Software?
You know, I can just tell you that it's quite a bit. I don't think there's any way that I could nail that down to a certain figure, but I'm sure it's up there pretty good. I would think that it's paid for itself at least a couple of times over!
Has Axon Software helped you in terms of dealing with your customers?
Yes, it has. Any time a customer has questions or concerns, Axon has all the information about them and the status of any of their loads.
If a customer calls in and needs to know an answer, and the person they are looking for is not available, anyone that has permission [to access the programs] can pull the information up about the customer and their order and satisfy that question or concern immediately.
How do you feel about the training and the support that you receive from Axon Software?
Axon has been the only trucking program we've used. Our initial training was excellent. I don't recall the length of time that it took us right out of the gate, but I know it wasn't very long – maybe a few days or so – and after that we've been able to do most of our own training if I had new employees come in because initial training was so good that we understood it very well in a short amount of time. I was impressed with that.
The support, well, it seems to work so well for us that we don't require a whole lot of support.
But I know when we have needed to call, it's been a quick response time and I've been very pleased with that.
One of the most difficult things that human beings have to deal with is change. Axon Software represents a huge change for a trucking company. Did this create any problems for you?
No, because we've only used Axon. We were lucky. Axon has worked well enough for us that we haven't looked for any change. So, yeah, we're one of the lucky ones there. We got to use Axon right out of the gate.
Do you remember the moment that you decided that Axon Software represented the right direction for your company?
Yes, it was four and a half years ago, the moment I compared it to some of your competitors, in particular, Prophecy. Considering the cost and the ease of use for our company, it was not a difficult decision to make. So, yes, I remember that decision clearly.
If you were to speak with any of your peers in the industry, how would you describe your experience with Axon Software?
Well, it'll be a short statement right there because it's simple, but it's detailed, and its pretty much problem-free. No one needs headaches, so I would recommend Axon, especially to anyone of our size; I can't go into the really, really big trucking companies, but I'm sure it would work well for those guys as well. But for us, and anybody that I've dealt with, I would highly recommend Axon.