AXON DID NOT TAKE LONG TO PAY FOR ITSELF
"It did not take very long for Axon to pay for itself. That's for sure... There's not a lot of duplication of information all over the place anymore. It's just one entry, one order, and it flows everywhere for everything you need in Axon."
Becki Beimers
Operations Manager
JNB Heavy Haul
Mitchell, ON N0K 1N0, Canada
FREE BOOK – "HOW WE TRIPLED OUR FLEET SIZE WITHOUT ADDING ANY OFFICE STAFF"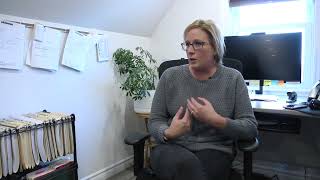 JNB Heavy Haul is based out of Mitchell, Ontario, with a sister company in Nova Scotia. We recently met with Becki Beimers to learn more about the success of this interesting company.
I am Becki Beimers from JNB Heavy Haul in Mitchell, Ontario. This company was started by Bonnie, John, and Nick Beimers with just a couple of trucks in 1997. And now, in 2021, we have roughly 34 truck units.
I have been with this company for 10 years now. I oversee operations, dispatching, and accounts payable/receivable here and at our partner company in Nova Scotia. We are a heavy haul trucking company, handling mostly oversize, overweight loads that we truck all over Canada and the USA.
We started using Axon in October of 2020, and it's really improved our company.
"Axon has really changed the way we do business."
Axon has really changed the way we do business. We have a very good work flow in our office now. From accounting to dispatching, everything is completely integrated.
We used to have to have separate paper bills of lading that we would, essentially, worry about the truck driver filling out properly. All of that information now comes directly out of our Axon software and goes directly to the driver, so there is no misinterpretation in between.
Axon has changed the way we've done our invoicing. Before, there used to be a lot of duplication. It would be written up in one spot, then it would go to the accounting department and they would have to rewrite everything again.
Now, you just have the one entry from the start, and it flows right through the dispatchers, into accounting, and there is no duplication of information or all the errors that are made when you're always entering things over and over.
"Axon has freed up time."
We did not decrease any staff here, but with the staff that we do have, we are definitely able to do many other jobs. It has freed up time for other things for us to focus on that needed attention. That's been very helpful.
Tracking the permits and extra costs for each load has always been difficult. When we started out with the heavy haul business, back in our Excel days, we used to make a checklist of everything. All the expenses that apply towards our load, the permits, pilot care costs and so on.
Axon helped us set up a customizable tab right in the order, and it actually flows with the exchange rate for the day. So if we have received a US invoice, we enter it and it will convert it to Canadian and give us an actual value of what should come off of that load as well.
"We have increased our fleet since we've had Axon."
We have increased the fleet since we've had Axon. And we're still at the same staff. Because of Axon, I would think we could probably hire another 5 to 10 trucks onto our fleet before we would have to have any more admin staff.
"Axon software paid for itself right away."
I would say that Axon paid for itself right away.
Once we had Axon set up for us, it did not take very long for it to pay for itself, that's for sure. Once we got everybody up and rolling and on the ball of how to navigate around the Axon software and everything else, we were able to drop our old ways immediately.
I find that our staff is even able to go home sooner at the end of the day because there's not a lot of duplication of information all over the place anymore. It's just like I said, one entry and one order, and it just flows everywhere for everything you need in Axon.
"Axon has really helped improve our customer relations."
Axon has really helped improve our customer relations. I work a lot in the accounting department, but I used to dispatch here too.
If a customer calls in and they want to know where their load is or anything like that, I am able to go into Axon. I can see exactly which dispatcher it's assigned to, and I can get the customer to the proper dispatcher much faster than phoning around to everybody in our office to find out whose load it is.
The customers really enjoy our quick responses because we're able to just go into Axon and look up the information they need.
"Before Axon, we were doing everything by spreadsheets and paper."
Before Axon, we were doing everything by spreadsheets and paper. Axon's really eliminated all of that paper trail and it's made our lives 100% easier. I don't know how else to explain it.
It was very difficult, with our growth over the years, to keep doing everything with Excel spreadsheets. It was working for us, but we could feel that we needed to transition into something different, something better, that would work for us.
When we searched out Axon, we evaluated a few other dispatching software systems and did the demos and everything. And Axon was a little more expensive than some of the ones that we did demo, but I can attest that you definitely get what you pay for.
"Axon gives you the gift of time."
Axon has definitely helped out with time here at JNB Heavy Haul. I find the employees are not spending as much time trying to just keep up with entries and with their work loads and everything. They're now able to focus more on getting the truck down the road and where it needs to be.
They have time to actually stop and check the tracking programs to see where the drivers are at. To do more trip planning for them. They are able to help the drivers out more that way.
We are into a lot of permit loads and stuff, so it does take up a lot of a dispatcher's time. Before, there was never enough time where a dispatcher could actually help a driver turn by turn through a permit like they can now.
It definitely gets them out the door sooner at the end of the day. They're not here plugging in numbers into different programs, trying to clean up their workload at the end of the day. They are able just to keep up with their workloads now.
"Axon's training and support are excellent."
The training was excellent. We had several training sessions with our dispatchers and with our accountants. We had several training days to touch on different topics and bases. And it basically covered everything.
Axon's ongoing support is excellent. We do have some other software we use – like in our shop and stuff where, if you phone support, you never get support.
Axon, you phone and there is a human being that answers the telephone every time. And if support is not available, they will get back to you as soon as somebody is off the line. You can trust that when you leave your name and number, they will actually call you back.
"Becki, what would you tell someone in the industry about your experience with Axon?"
I could definitely rate my experience with Axon – definitely a 10 out of 10. If anybody ever wanted to ask me if I would recommend Axon, 100%, I would recommend Axon to anybody. Whether you have a small fleet, a large fleet, it is definitely diverse.
So what could we do with the program to make your life easier?
I can't really say. Axon has pretty much provided everything we've been looking for. Even with our downstairs office, the dispatchers and everything, if anything they have suggested comes up, it is already there. We just have to phone support to find out where.