DOUBLED FLEET, ADDED SIDE BUSINESSES, WITH NO INCREASE IN OFFICE STAFF
"With Axon, since we started, we have almost doubled our fleet and we have not added any office staff to accommodate that… Including adding a whole station and shop repair business."
Samantha Kriener
Manager
Mihm Brothers Inc.
Fort Atkinson, IA 52144, USA
FREE BOOK – "HOW WE TRIPLED OUR FLEET SIZE WITHOUT ADDING ANY OFFICE STAFF"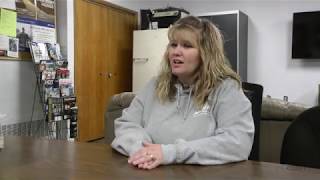 Mihm Brothers, Inc. operates out of Fort Atkinson, Iowa. Their business is constantly changing and growing, and they needed a system that could keep up. We spoke with Samantha Kriener to hear about the difference Axon has made to their business in the past 5 years.
I'm Samantha Kriener, a Manager at Mihm Brothers of Fort Atkinson, IA.
I'm Sam, from Mihm Brothers. I work in the office and do a little bit of everything. We are located in Fort Atkinson, Iowa. We haul a little of everything. We mostly do livestock, but we also do refrigerated products, hopper products, and more.
The company has been open since the 1960s, owned by the same family. The dad owned it, and now the sons own it. It's been in the family for a long time.
We started using Axon in 2015. Compared to our old system, the ease of changing stuff is remarkable. The trucking world is always changing. Rates are always changing. We are constantly having to change items.
That is one thing we really appreciate – the ease of making changes to the different invoices and orders and whatnot.
How has the support been?
Support is always just a phone call away. If we have any questions, we just call them up and they are usually back with us relatively quickly.
Our old system had support, but it was a one-man show. When he was available, he would get back to you. Axon having a whole fleet of people to help definitely eases our questions.
What is something that has changed, compared to your old software?
If we needed to make a change in our old program, it was like going to Congress to try and make a change. We had to go through and make all kinds of journal entries, and we actually had to leave it incorrect because we couldn't change it. We'd have to make notes to ourselves for the next time so that we knew there was a change.
With Axon, we don't have to do that. We can go back and search on anything to know exactly what happened.
Your company has grown. Has that been easy to handle with Axon?
We had 30-40 trucks when we started with Axon. Now we have 50, and the number of lessors that we have, compared to before, has really increased.
The staff is actually the same, but we've added more duties. We never used to do anything with our shop and our repair station, and now we are using the full function of that, with the same number of employees. With our old software, this would probably have taken at least a couple more people in the office.
With Axon, we increased our company drivers and lessors by probably 50% with the same office staff while adding a whole station and shop repair business. Even if we added another 10 or 15 units, we definitely wouldn't need more office staff to handle it.
Do the drivers like their settlements?
Once they learned them, they're smooth. The drivers understand them completely and they don't call and ask as many questions as they did before. Everything is laid out right on the statement.
Has Axon changed the way you do invoicing?
Yes. Now that the invoicing is easier to do, the dispatchers actually put the orders into the computer, versus before the office staff did everything. It saves a lot of time, very much so.
Have the reports in Axon changed the way you look at your business?
We had reports before, but we did them all manually. Now we can just click a couple of buttons and the report comes up. If the report doesn't show what we want, we call in and ask for help in making a new report, and Axon will help us.
The customizable reports are amazing. Once we learn what information we need to initially put in, everything just runs smoothly. I would say these reports save a couple of days per month.
Has Axon helped with customer relations or customer service?
If a customer calls us and asks a question, we can stay on the phone with them, look it up, and answer the question. Whereas before, we would say, "Let me look it up and I will get back to you." It's a lot quicker to just answer the question immediately. We don't have to make a call back.
If somebody in your industry asked about your experience with Axon, what would you say?
Actually, someone did ask us. They needed to change and asked what we were using. We told them Axon was great to work with and very easy to get up and going with. I would definitely stand behind it.
I would say Axon paid for itself within a year.