WE COULD DOUBLE OUR TRUCKS WITH AXON
"With Axon, we haven't increased our staff. Actually I think we went down. I feel like we could probably double our trucks with Axon and it wouldn't be a problem. It wouldn't even be a blip."
Tara Clarke
Controller
Point Gray Contracting Ltd.
Lloydminster, SK S9V 2B7, Canada
FREE BOOK – "HOW WE TRIPLED OUR FLEET SIZE WITHOUT ADDING ANY OFFICE STAFF"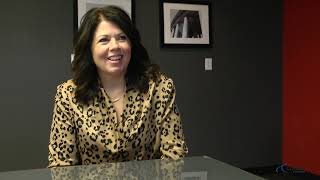 Point Gray Contracting operates out of Lloydminster on the border of Saskatchewan and Alberta, Canada. We stopped in for a chat with Tara to see how they've been using Axon Software to stay on top of everything and continue growing.
I'm Tara Clarke, Controller at Point Gray Contracting of Lloydminster, Alberta
I'm Tara Clarke. I've worked for Jason at Point Gray Contracting for 14 years now, and we've been in this location since November of 2013. I'm the controller. We basically haul fuel. We have hauled cattle, we've hauled different chemicals, and Axon has handled it all.
"Jason's grandpa had a Petro Canada location, and then his dad took it over, and then Jason took over that Petro Canada location here in 2001.
Then in 2002, Point Gray came into existence with the Super-B's. They started with 3 trucks. At the time, we were using Simply Accounting and we didn't have any way of tracking anything. When we moved into this building, it was recommended that we start using Axon.
How has your experience with Axon been?
It's been fantastic. I truly love it. I think there are parts of it that we aren't utilizing to the maximum yet, but for dispatching, anything. The reporting is great. If a report is not in the system, I phone Axon and they help me create it. It's easy to phone in – they are fantastic.
If I want something changed, it's easy enough for me to change it. We can find anything by driver, by truck, trailer, date, city, anything.
Has Axon helped solve some problems that you had before making the switch?
For one thing, we know that we won't lose the paperwork on a load. Before, as long as we were organized, we "hoped" that we didn't miss something. It could have happened, but I'd hope that it didn't happen with me.
For the drivers, keeping their pay straight now is a breeze. It's just easy.
Do drivers seem happy with their statements?
They can see exactly what they've done, if we've paid them waiting time, or anything. They can see it. It's emailed out, they get it, and it's done. No guessing games.
Have the equipment records and reporting been helpful?
Jason can see everything at a snapshot, and it keeps him happy. We do have some leases, and sometimes it's like why are we paying for this, right? We drill back – it's so easy to drill back.
I've worked with three different accounting software systems and Axon, hands down, is the easiest to drill back, find mistakes, fix them, and lock it down.
How many trucks did you have when starting with Axon?
Probably eight or nine. We're up to fifteen now, with two more coming. I think there are a couple more coming in the spring, depending on how things go.
We run everything with our dispatcher, another girl part-time, and me. I think we have the right people in place and we're managing fine right now with the three of us.
We do not foresee any increase in staffing, because it's so easy to manage. Even our dispatcher can do the paperwork.
Has Axon paid for itself?
Staffing is huge, right? Your labor costs are huge, turnover is huge. And the month-to-month costs are reasonable. I would say it easily paid off. We've never missed a load, paperwork, or anything like that.
Has Axon helped with your customer relations?
We can easily pull any report and see who our top customers are. Jason can see to the liter what we've delivered out, at what kind of rates. It's easy to update the rates. It's simple.
Do you find the software easy to use?
Oh, it's so easy. On a scale of ten, it's a ten. Like I said, I've used three different software accounting systems and it's by far, hands down, the best.
I'm taking a laptop on a trip to Phoenix to do payroll. I'm hoping an hour, maybe two, and we'll be done.
If anybody in the industry asked about your experience with Axon, what would you say?
Oh, it's fantastic. It's fantastic. With our new dispatcher, I've told him, there's always training available and training anytime. Even myself, if I need something like a new report, if Jason wants to see something different, it's easy. We email in and within an hour we have a call back, and the report is set up. There's no delay in anything really. If there's an issue, they work on it. Yeah, it's fantastic.
With Axon, we haven't increased our staff. Actually, I think we went down. I feel like we could double our trucks with Axon, and it wouldn't be a problem. It wouldn't even be a blip. Paperwork would be flowing through, customers getting what they want on time, and we just keep going forward.